We use affiliate links. If you buy something through the links on this page, we may earn a commission at no cost to you. Learn more.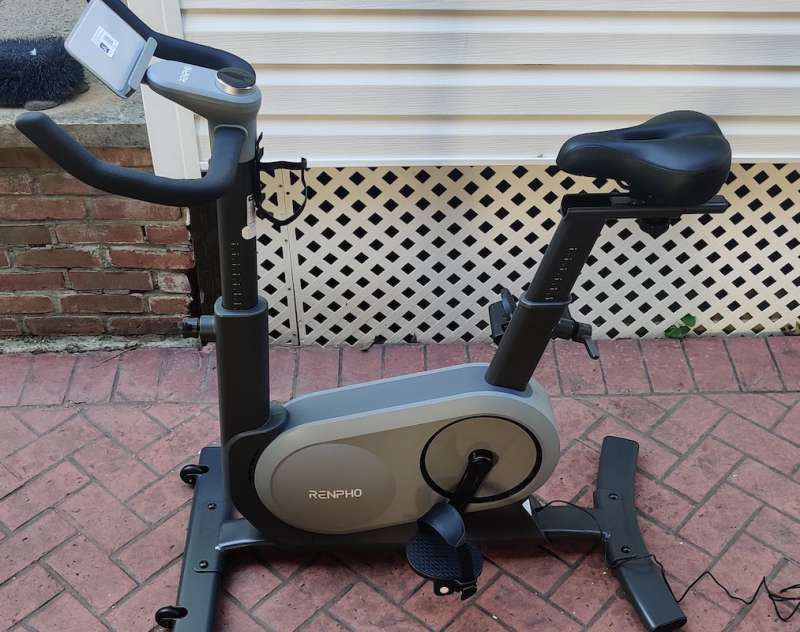 REVIEW – When the pandemic drove everyone out of the gyms and into their houses, in-home fitness systems like Peloton took off. Everyone seemed to have one, which might explain why, for a while, they were so hard to get. And they were expensive.  Peloton bikes are nice, but they are really just a stationary bike that reports key metrics like power (how much energy you produce, watts) and cadence (how fast you pedal, in rpm).  Could you recreate that same basic experience with a non-peloton bike that reported those features?  And could that bike do other cool stuff like adjust the resistance on its own?  The answer is yes, with a few caveats. Let's check out the RENPHO AI Smart exercise bike.
What is it?
The RENPHO AI Smart exercise bike is a smart stationary bike and app ecosystem that uses AI to customize workouts to your fitness and ability.  It also works with other apps like Peloton, Zwift, and Trainer Road.  
What's in the box?
RENPHO AI Smart exercise bike

Parts and tools to put the bike together (don't worry – it's not hard)

AC adapter

Manual

Quick-start guide
Hardware specs
Smart Technology: RENPHO AI Gym App – iOS and Android

Third-party app connectivity: FTMS Bluetooth

Third-party app control: Kinoma, Zwif, FulGas, Rouvy, XERT, Wahoo Systm (yes, it's spelled that way)

Resistance type: Smart Motor Damping

Resistance functionality: Automatic and manual resistance

Power Accuracy: ≥90%

Power range: 0-1000W(Peak)

Gears: 80 (the bike does not have actual gears – this is simulated)

Metrics: Real-time RPM, Power, Cadence, Resistance, Calories

Wireless firmware updates: Yes

Frame: Carbon structural steel

Size: 49 inch(Height) x 20 inch(Width) x 40 inch(Length)、

Seat: Universal Seat Cushion Standard Dual-Rail Mounting and airflow system 8 inch(Width) x 10.5 inch(Length)

Pedals: Adjustable Pedal Straps

Tablet Holder: Up to 8.46 inch

Adjustability: Handlebar: range 32.5 inch – 41.3 inch Saddle fore/aft : range 0 – 3inch Saddle height: range 32.5 – 41.3 inch

Crank Length: 6.7 inch

Q factor: 6.3 inch

Calibration: Factory Set

Power required: 120V household power

Operating Temperature: 41-122°F

User Requirements: Height range: 4′11″ – 6′0″  (official specs say 6'5'', but this is impossible)

Weight maximum: 265 lbs
Assembly
The hardest part of the RENPHO AI Smart exercise bike assembly is just getting the bike out of the box.  It's very well packaged and protected, but it's a heavy box to move around.  Having a buddy helps.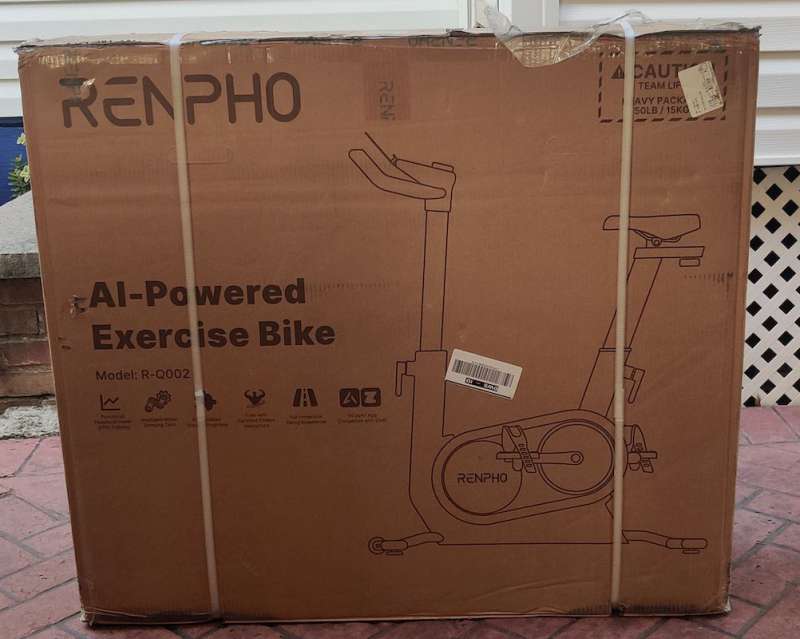 Once you get the box to where you want, you really just flip it upside down, cut around the bottom, and lift the box off.  Then you pull the packaging away, separate the parts, and follow the simple instructions using the tools provided.  All told, it took me about 30 minutes from unboxing to riding.  The included tools are adequate for the build (just two hex wrenches, and an open end wrench for
…
Read More...
Read More