Investment Thesis
O'Reilly is growing its business and expanding its market reach. The company has shown consistent sales growth and robust operating profitability. Despite the pandemic, the company's performance was strong. The company's effective market strategy, increasing customer reach, strong distribution network, and experienced team makes its stock a buy.
An Overview of the company
Missouri based O'Reilly Automotive, Inc. (ORLY) is one of the nation's leading specialty retailers of automotive aftermarket parts, tools, supplies, equipment, and accessories, catering to both professional and do-it-yourself customers. The O'Reilly family founded the company in 1957, and as of December 31, 2021, it had 5,784 outlets in 47 states in the U.S. and 25 stores in Mexico.
Product and Distribution
O'Reilly Automotive outlets offer a diverse range of products, including:
• alternators, batteries, brake system components, belts, chassis parts, driveline parts, engine parts, fuel pumps, starters, antifreeze, appearance products, engine additives, filters, fluids, lighting, oil, wiper blades, etc.
• accessories, such as floor mats, seat covers, truck accessories, etc.
The company's stores offer varieties of upgraded services and programs to the customers, such as battery diagnostic testing, battery, wiper and bulb replacement, check engine light code extraction, custom hydraulic hoses, drum and rotor resurfacing, electrical and module testing, loaner tool program, professional paint shop mixing and used oil, oil filter, and battery recycling.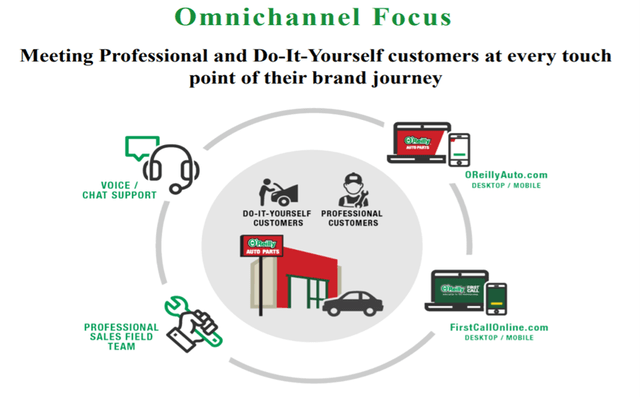 Customers research options before buying a part or a product. Customers' purchase decisions are influenced by a variety of experiences, whether in-person, over the phone, or through a variety of digital channels. O'Reilly's omnichannel goal is to provide customers with a better and more seamless research and buying experience across all these channels.
The company provides a regional distribution network which allows it to optimize product availability and inventory levels across its store network. The company's inventory management and distribution systems connect each of its stores to one or more distribution centers, working for effective inventory control and administration.
Industry Factors
The number of miles driven, the number of registered vehicles, new light vehicle registrations, and average vehicle age, are the major drivers of present and future demand for items offered in the automotive aftermarket.
Number of Miles Driven: The demand for repair and maintenance items offered in the automobile aftermarket is influenced by the total number of miles travelled. Cars in the U.S. are driven over three trillion miles per year, resulting in continuing wear and tear and a corresponding demand for repair and maintenance goods to keep these vehicles running.
Size and age of the vehicle fleet: The demand for items offered in the automotive aftermarket industry is highly influenced by the total number of vehicles (car park) and the average age of the vehicle population. As the average age of vehicles on the road rises, more miles are driven by vehicles that are no longer covered by the manufacturer's warranty. Older automobiles that are out of warranty produce a lot of demand for automotive aftermarket products since they go through
…
Read More...
Read More