We use affiliate links. If you buy something through the links on this page, we may earn a commission at no cost to you. Learn more.
REVIEW – I've been riding electric motorcycles and more recently ebikes for almost a decade now. I love electric bikes, especially as a way to get around town quickly and efficiently while still offering the opportunity to get a good workout when I want. We've been looking for a while to get a good second ebike for my partner so we can ride together, and the HOVSCO HovBeta 20″ Foldable Fat Tire electric bike looked like the perfect one for her. Even if HOVSCO hadn't been sending me one to review, if I'd heard about them I'd have likely selected this one to meet our needs after researching the different models on the market today. Many of the more portable folding bikes look like clown bikes to me, with tiny wheels and usually no front or rear shocks, which look like they'd be rather painful on anything but perfectly smooth terrain. In the suburban jungle we usually ride around, larger tires and some shock absorption are necessary.
What is it?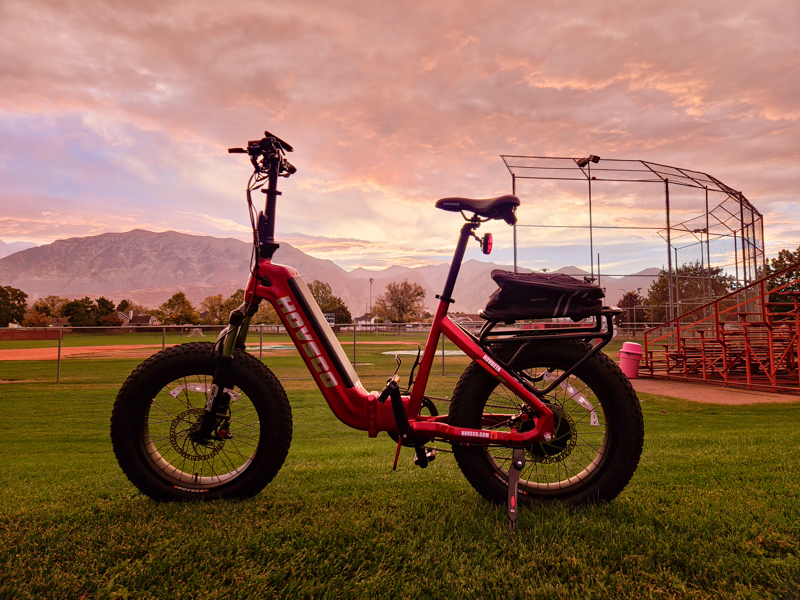 The HOVSCO HovBeta 20″ Foldable Fat Tire electric bike is an electric bike with a step-through frame form factor, with fat tire wheels. This particular ebike allows you to ride with no electric motor assistance, or with a throttle pushed down and no pedaling, or with "pedal assist" where the motor combines with the rider's efforts to propel the bike forward. You can either treat this like a scooter/moped style vehicle and just throttle all over town, or you can treat it like a regular bicycle and get to places faster with less (or no) sweat.
What's in the box?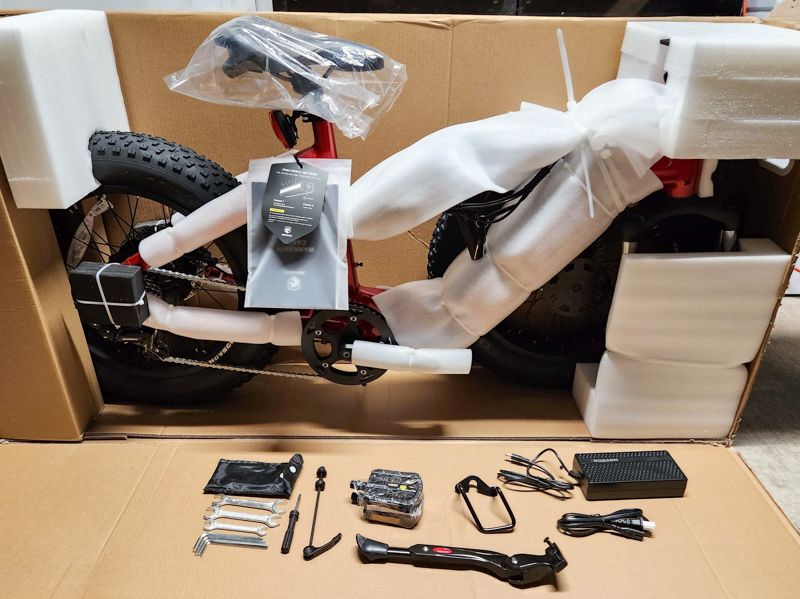 HOVSCO HovBeta 20″ Foldable Fat Tire electric bike
AC wall charger
Installation tool kit
2 year warranty on the frame, motor, and battery, 30-90 days on other parts.
Hardware specs
750 W (1032 W peak), 85 Nm. torque SUTTO (sub branch of Bafang) motor
720 Wh, 48 V, 15 Ah Samsung/LG Lithium-ion battery with built in light
Up to 60 Miles range, 4 hours charge from empty
Suggested rider height: 4'11" to 6'3″
Max weight: 450 Lbs
Max hill climb assist: 40 degrees
Torque Sensor pedal assist
Class 1 ebike out of the box, Class 2/3 unlocked via smartphone app
Max speed throttle-only: 20 mph
Max speed pedal-assist: 28 mph
LCD digital display
Frame: 6061 Aluminum alloy with internal battery
Weight: 66.4 lbs
Dimensions Unfolded (with handlebars in lowest position): 66.92″ long x 48.82″ tall x 24.61″
Dimensions Folded:
Design and features
For a relatively new bike company (founded in 2019, headquartered in Ontario CA), HOVSCO has put out a bike that feels on par or better than bikes I've ridden or owned from market leaders like Rad Power. I couldn't find any fit or finish flaws worth writing about, and while I'm not an expert on every bike component out there I've ridden
…
Read More...
Read More