NVIDIA (NVDA) has been on an incredible run of late, fueled by tremendous growth across its business segments. Revenue has more than doubled over the past 3 years, resulting in explosive economies of scale. Gross margins are up nearly 500 basis points while operating margins are up over 900 basis points. Free cash flow has increased by 2.3 times over that span.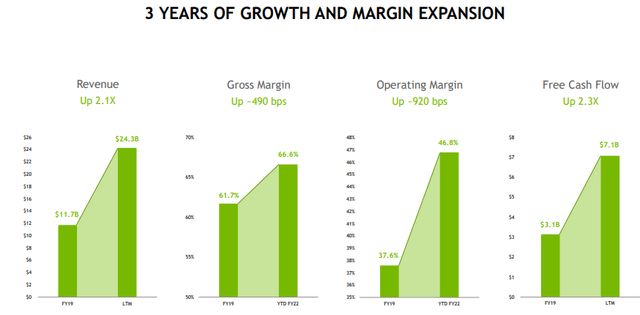 While the business itself is clearly very strong and growth momentum is impressive, the expected slowdown in growth and the premium valuation multiples attached to the stock – even after the recent pullback in the share price – imply that it is not a Buy at the moment. On the other hand, the explosive growth potential in the automotive business could be an x-factor that drives continued outperformance for the company. In this article, we will overview the business as a whole and then discuss the qualitative aspects of the automotive business that indicate massive growth could materialize there.
NVDA Stock Has A Wide Moat Business Model
Even more importantly, the company possesses a wide moat due to its intellectual property. Thanks to its leading position in the GPU space, the company plays an integral and increasingly prominent role in the global economy.
As the leader in the space, NVDA is able to attract among the very best talent in the industry that it retains through generous compensation packages and a large research and development budget. In our view, this positions the company to retain its technical edge in the industry and continue to innovate to compound its intellectual property driven competitive advantages. This makes the business model fairly low risk and gives it tremendous long-term potential. We also see this competitive advantage on display in its superior profitability metrics compared to its rival Intel (INTC):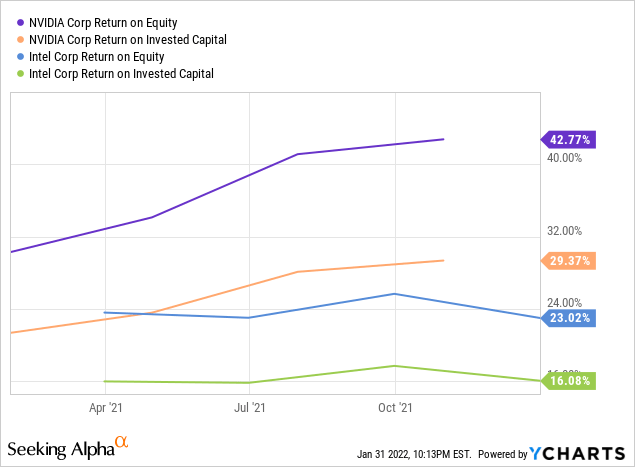 NVDA Stock Has A Massive Growth Runway
Thanks to its world-class brain trust, strong base in technology and basic research, and strong macro tailwinds for its industry, NVDA has nearly limitless opportunities to grow. The company has already begun expanding into new markets, including data centers and autonomous driving: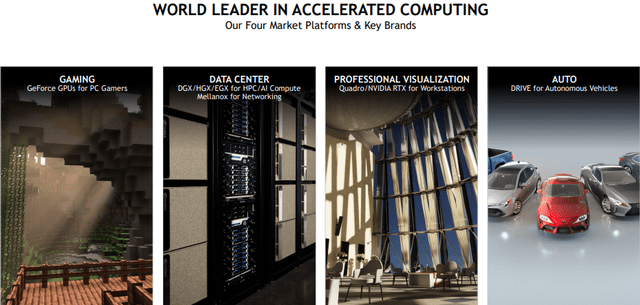 These initiatives have already gained substantial momentum as its data center business saw 53% year-over-year growth in the first nine months of 2021 and its automotive business saw 13% year-over-year growth in the first nine months of 2021.
Meanwhile, its core gaming business soared by 72% year-over-year and its professional visualization business was its fastest-growing business, up 97% year-over-year, though it is still dwarfed in size by its gaming and data center businesses.
Long term, the data center and the automotive businesses should see significant sustained growth as both markets are massive and set to grow for many years to come. With artificial intelligence technologies exploding as well as the metaverse just beginning to take off, NVDA has enormous potential to increase the applications of and markets for its technologies.
One way in which NVDA has been aggressively pursuing
…
Read More...
Read More