The Italian marque built this bike with rallying in mind, sure, but its incredible versatility makes it an absolute stand-out
Article content
It's been the most anticipated motorcycle of 2023; it is the most singularly unique bike in Ducati's lineup; and it most certainly is the company's most plainly adorned two-wheeler. It's the Desert X, and it's one Ducati that looks like it belongs more to the Dakar Rally than a MotoGP track. The suspension travel is long, the tires (semi-)knobby, and the creature comforts few. It's as if the famed Italian marque was channelling KTM. Actually, not KTM. Cagiva. As in the famed Cagiva Elefant that actually did challenge the Paris-Dakar stalwarts.
Article content
For those that don't remember, Ducati used to be owned by the Castiglioni brothers. And, in a quest to broaden the company's customer base beyond the hardcore Ducatisti, it attempted to expand into demographics previously unexplored. It tried sport-touring — first the ill-fated Paso, and then the only-slightly-better-received ST2, before it stumbled upon the hugely popular Monster naked bike.
But when Ducati decided to move into the hardcore off-road rally market, loyalists deemed this a brand-expansion too far. So, even though its most famous effort — that would be the aforementioned Elefant — was essentially all Ducati, right down to its famous Pantah-based 90-degree V-twin, it was shuffled off to the "lesser" Cagiva brand.
Article content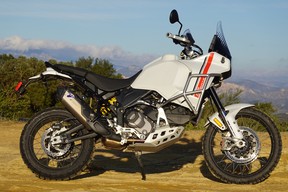 That's actually too bad, because while the rest of Cagiva's lineup was definitely hand-me-downs — like the boring-as-snot Allazura — the Elefant was quite the motorcycle, especially in its Paris-Dakar-winning 900ie version. It was comely, extremely competent, and, at the time, provided just the kind of buzz the fledgling adventure segment needed. Long story short, even though the new Desert X wears "Ducati" badging, it is very much a modernized Cagiva Elefant. The commitment to off-road excellence is there. Ditto for long-travel suspension and the minimalization of its adornments. Even some of the 1990 original's styling makes the grade 30-plus years later. And, of course there's that—
Wonderful Ducati V-twin engine
Article content
Essentially a lightly revised Testatretta 937-cc twin — with different gear ratios for first and second, a lower overall gear ratio, and slightly retuned fuel-injection tuning — from Ducati's Multistrada V2, there's 110 horsepower on tap, more than enough for an adventurer weighing a (relatively) sprite 223 kilograms and sporting Pirelli Scorpion STR semi-knobby tires (90/90-21 up front, and a 150/70-18 in the rear) that promise go-anywhere traction. It's torque-y down low, extremely responsive in the mid-range, and doesn't it make
…
Read More...
Read More