Performance motorcycling in India has been gaining ground in the past decade despite the recent covid induced slowdown. With more disposable income and a wide variety of options to choose from, Indian riders across the country are buying aspirational motorcycles today as their primary transport. While making a purchase decision, there are some common concerns that underline the big bike ownership experience in the country. These are, low ground clearance, engine heat, traffic manoeuvrability and high-maintenance cost, all reasonable concerns if you are going to be investing in a motorcycle that costs as much as a car. However, there is one offering from
Ducati
India that you most likely have not considered yet, the Hypermotard 950 RVE. Here is why you should take a look at the Hypermotard if you are someone who intends on using your motorcycle on a daily basis.
Design:
The Ducati Hypermotard 950 RVE is definitely a looker from all angles. It will especially appeal to folks who appreciate a form following function ethos. The high-mounted front beak, front handlebar protectors with integrated LED DRLs and the slim single-pane seat running from the 14.5-litre fuel tank to the taillamp unit set the tone for its dirt bike inspiration. The exposed steel trellis frame and the off-set tail lamp unit give a raw utilitarian appeal and the upswept dual exhaust cans make the motorcycle look lean and mean from the rear.
The 17-inch alloy wheels in the RVE edition are finished in a dual-tone theme and look good when stationary and while on the move. The motorcycle we rode had a pair of Pirelli Diablo Rosso 3 tyres, 120/70 section on the front and 180/55 section tyre on the rear. Combined with its 195 mm ground clearance and the very comfortable 170 mm of suspension travel on each end, the Hypermotard is a very attractive supermotard motorcycle that is up for grabs in India.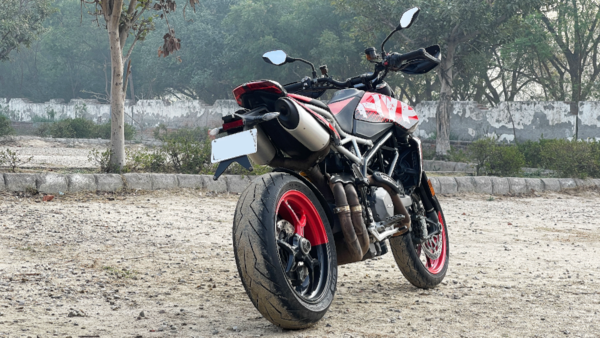 The only disappointment in terms of aesthetics is the Hypermotard's halogen headlamp unit which is underwhelming both in design and performance. The sabre tooth style LED DRLs on the other hand look good.
Equipment on offer:
Now before we share our riding experience, let us quickly take you through the equipment that is on offer with the Ducati Hypermotard 950 RVE. It gets 45 mm fully adjustable Marzocchi USD forks on the front and a fully adjustable mono shock at the rear. Braking duties are performed by double 320 mm discs on the front and a 245 mm disc at the rear, which is pretty responsive. The front features two monobloc radially-mounted 4-piston Brembo M4.32 callipers. It also gets a single-side swing arm with a single nut lock for the wheel. The tapered aluminium handlebar is wide and adds to the motorcycle's agility.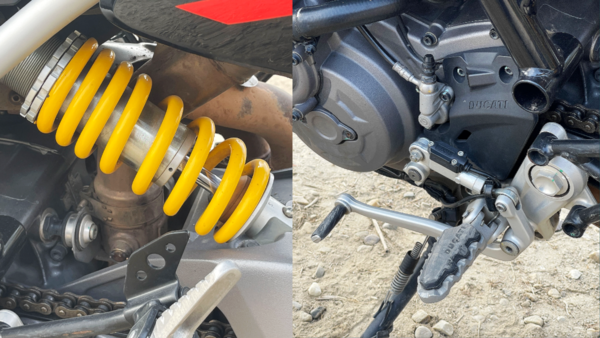 Loaded with geeky tech:
Do not be fooled by the Hypermotard's minimal design, Ducati has managed to pack in an entire suite of safety tech and rider assistance systems inside the motorcycle. It comes with cornering ABS from Bosch, Ducati Traction Control (DTC) EVO, Ducati Wheelie Control (DWC) EVO and a Ducati Quick Shifter (DQS) for both up and down. All of the riding information is served to you on a 4.3-inch TFT display which is crisp and bright.
The Engine:
The Hypermotard 950 gets Ducati's 937 cc twin-cylinder, Testastretta 11-degree, Desmodromic, liquid-cooled engine with magnesium headcovers and a hydraulic clutch command. It generates 114 hp at 9,000 rpm and 96 Nm of torque at 7,250 rpm. Do not make the mistake of assuming that it is the same as the Ducati Monster, as the Hypermotard's powertrain has additional equipment and power as well.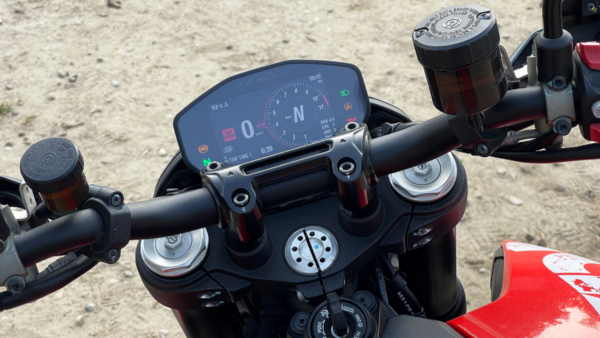 The real-world experience:
With the details out of the way, let's get into how the Ducati Hypermotard 950 RVE was to live with and ride in the city. Despite its rugged exterior, this motorcycle is built to attack an urban environment, rough patches and maybe some dirt roads but serious off-roading is not on the menu. Although it is a powerful 114 hp motorcycle, it doesn't come across visually as a large and intimidating motorcycle. It is a rather petite superbike which is absolutely not a bad thing when you look at the larger picture.
Keeping Delhi NCR or any other metro in mind, the Hypermotard is a fairly light motorcycle at 178 kg (dry weight). Its shorter 1,493 mm wheelbase makes it much more agile than other motorcycles in its class and while the 870 mm seat height will be an issue for short riders, for those above 5'8, it offers a very commanding riding position in traffic. Combined with its snappy twin-cylinder engine and dirt bike-like manoeuvrability, the Ducati Hypermotard is one of the most usable superbikes on Indian roads.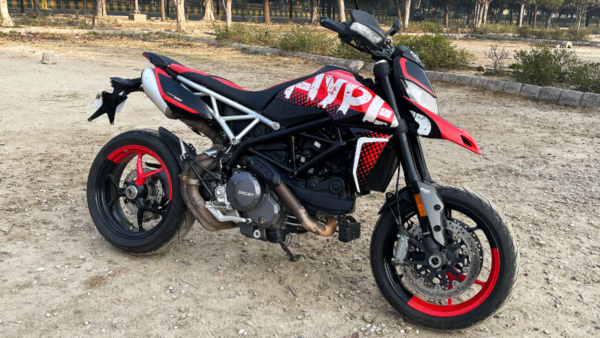 Thanks to the 170 mm suspension travel, it glides over bad patches like a champ and one does not even need to slow down much to hop over speed breakers. However, that suspension travel also rears its ugly face during braking and over road undulations but that is the trade-off for not having clearance anxiety. The absence of any fairing on the lower part means that the engine heat moves away from your body and isn't trapped near your legs. It also gets three riding modes, Sport, Touring and Urban. While you get access to all 114 hp in Sport and Touring, the Urban riding mode limits power output to 75 hp and is calibrated to offer maximum safety in situations such as rain.
Another winning trait of the motorcycle is how well the gearing and engine have been tuned to perform at high speeds and low-speeds. It was surprising to see that the Hypermotard could navigate through traffic without having to drop below third gear. On the other hand, the rev-happy engine can go up to its threshold fairly quickly and does not feel out of breath up to the 9-9,500 rpm mark.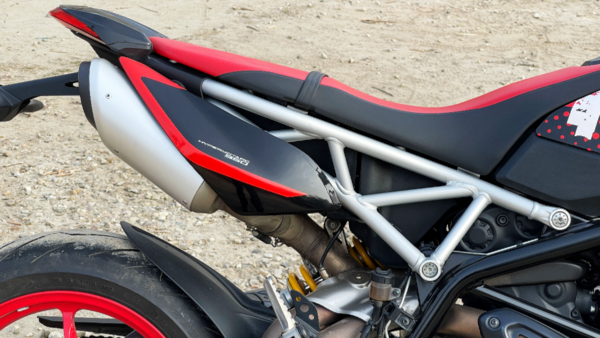 What took some getting used to:
For all its benefits on congested roads of a major metro city, the Hypermotard is still tuned to offer major performance when required. As such, the clutch and throttle feel very snappy at low speeds. It has enough power to pop uncalled-for wheelies if the Ducati Wheelie Control is not tuned up to a higher setting. The Brembo brakes work flawlessly when coming to a halt but will feel very jerky when managing stop-and-go traffic. Like every motorcycle on the planet, these are just some traits of the Hypermotard which would just take some getting used to. Apart from the absence of a fuel meter, there is not much in the Hypermotard that would need a rider's special attention on a day-to-day basis.
The tapered single seat of the Hypermotard 950 RVE might become an issue during long rides but works well from a riding perspective. It allows you to tuck in your legs and change directions by shifting your weight easily.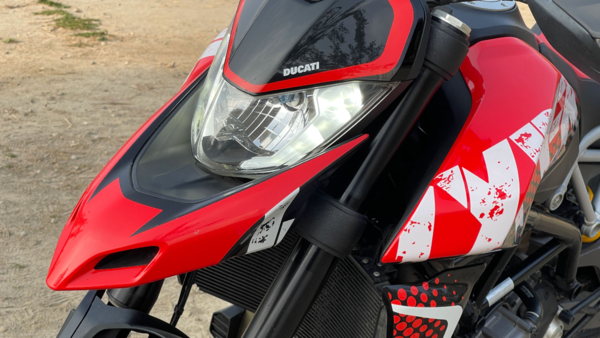 Should you consider buying one?
If you are an experienced rider, looking to upgrade to a powerful motorcycle for your daily commutes (because you only live once). The Ducati Hypermotard 950 RVE should definitely be on your list. It looks sharp and unique, sounds mean and handles like a motorcycle much below its weight class. The absence of heavy fairings and plastic panels means you don't need to worry about handsy onlookers damaging any part and it even gets a service interval of 15,000 km or 1 year, which means less time in the workshop.
Priced at Rs 15.60 lakhs ex-showroom, a Hypermotard rider is more likely to be out and about on the roads than owners of other superbikes in this price bracket, simply because of the balance it strikes between weight, power, ergonomics and performance. The more you ride the Hypermotard, the more you realise that it has answers to questions that you never even knew you could ask as a superbike owner.
Yes, a superbike can have massive ground clearance, it can be light and flickable, will not melt off your legs and can be ridden daily in India.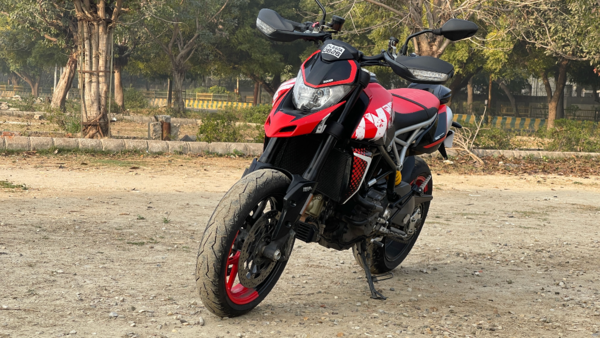 Who should not consider it:
If you are someone looking to buy a big motorcycle that makes a statement, appeals to your childhood self and has a poster appeal, then you have other fully-faired and naked options from Ducati and other brands in this price bracket. These look good coming from a kilometre away, give you top-speed bragging rights and will get you attention at all times.
In a nutshell, if riding for you is 6 AM weekend outings with a convoy of supersport motorcycles, then the Hypermotard is not for you. It would have terrible high-speed wind protection, you will need a monologue to explain what you are riding and you would probably reach every pit stop first because you did not wait for your friends at the speed bumps.
2023 Bajaj Pulsar NS200 & NS160 हिंदी रिव्यु | 10 साल बाद हुई अपडेट NS200 | TOI Auto