A typical e-bike is heavy: somewhere in the region of 30lb-55lb (15kg-25kg). It's understandable given you have to integrate a motor and battery to create the best electric bikes, but the weight makes it difficult to manoeuvre when you're out of the saddle. It's more of a problem for a folding e-bike when portability is even more important. The best folding bikes tend to come at a premium price because the folding mechanism is harder to design and manufacture than a standard frame, but in return you should be able to carry it around shops and on public transport easily, and into your home to store.
After reviewing six folding e-bikes, I've tended to favour the ones that can be wheeled because that bypasses the weight issue. Hummingbird, however, solves it by being lighter than any others – including many electric road bikes – at a weight of 22.7lb (10.3kg).
Hummingbird manufactures exceptionally light bikes to begin with. The brand's electric bikes also use an all-in-one battery and rear wheel-mounted motor from Zehus. At 7lb (3.2kg), the whole kit is only marginally heavier than the Brompton Electric's 6.4lb (2.9kg) battery.
Hummingbird even offers a more sustainable Flax range of folding bikes and e-bikes, with the frame made from flax plant fibres. The material has been developed by motorsports engineering company Prodrive, which is also behind Hummingbird, and it is supposed to have remarkably similar properties to carbon fibre. There's a carbon-fibre Hummingbird of an identical weight and price to the Flax version.
It's all very impressive, but also very expensive, as innovative things often are.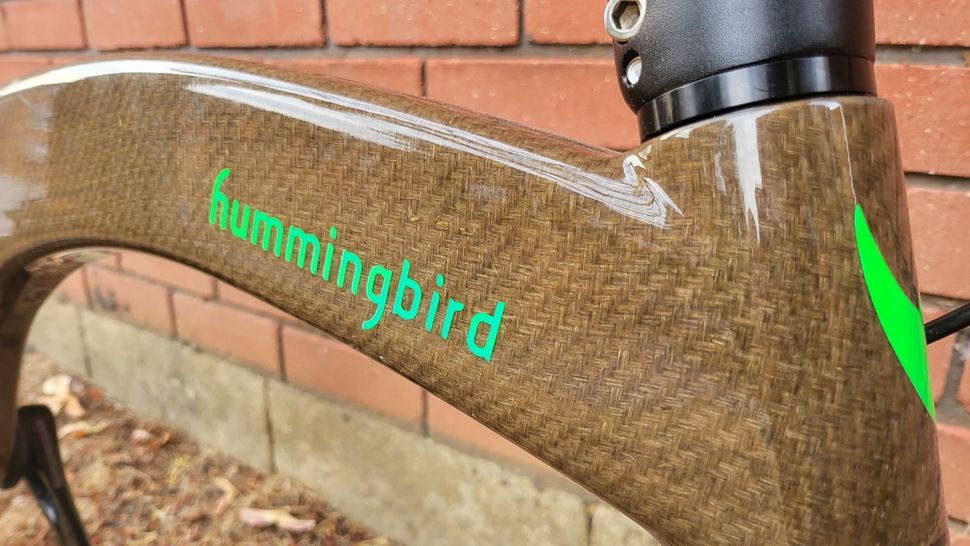 Hummingbird Folding Electric Flax: Price And Availability
The Electric Flax bike is available from Hummingbird (opens in new tab) for £4,995 and delivery times are currently two to four weeks. The bike is available to buy using Splitit, a 0% interest credit service that divides payment into three instalments. If you don't reside in the UK you can buy it for £4,162.50 – the price with VAT at 20% knocked off. 
The full price is £500 more than Hummingbird's entry-level folding electric bike, which weighs the same and has the same features. It's also the most expensive folding e-bike I've tried. It's closest competitors are the Brompton Electric P Line ($4,700-$4,810/£3,695-£3,775, 34.4lb/15.6 kg) and Gocycle G4 (£3,299, 17.6kg/38.8 lbs), but you can also find usable options for much less like the the Furo X ($2,399/£1,799, 33lb/15kg).
How I Tested This Bike
I had the Hummingbird for a week and used it for a trip to a supermarket, to drop off a parcel and two cycle commutes for a total of around 37 miles (59km). Unfortunately, I was directed to use an outdated version of the app, but I did squeeze in a 3km ride to test the remote control and regenerative braking feature.
The Fold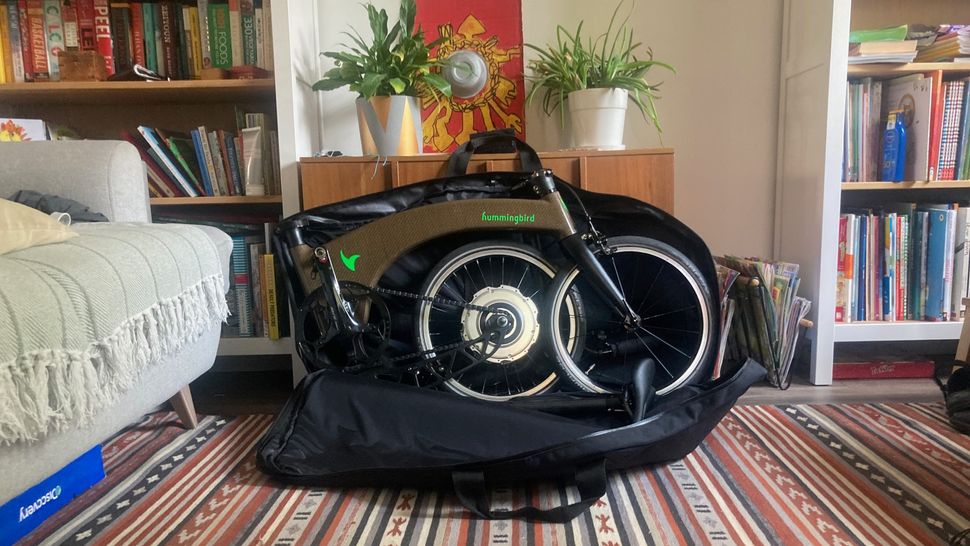 Folding the Hummingbird is a four-step process. First, unlock the clamp under the seatpost and swing the rear wheel under the frame. Then unlock the clamp on the head tube and fold the handlebars down, clipping them to the chain stay – this last part requires force to clip in and then to pull out again, and I found it awkward. It's then a case of unlocking the seat clamp and pushing the seat down. You can stop there, or you can unclip the pedals and slot them into place by the rear wheel. While this part is fiddly, it's a clever alternative to folding pedals.
I missed having a mechanism that would allow you to set the height of your seat so it is easy to return it to the same place each time. There's a measure on the back to help but I could never get it quite right. On the Brompton Electric you set the rider height, so you can bang it straight back to where it was without thinking or fiddling.
The mechanism differs from all the folding e-bikes I've tried in one respect: the frame does not have a vertical hinge to fold it in two. That leaves you with a long, thin folded bike that can sit in a hallway without sticking out too much and also feels easier to carry. It's well balanced and not as awkward to hold next to you as the wider Brompton is. I happily carried it around a superstore in one hand and a basket in the other for 15 minutes, although by the end my arm was beginning to tire. It will, of course, depend on what you think is a reasonable weight to carry. My wife, while active (currently training for a marathon), picked it up and immediately dismissed the idea of carrying it around.
The Battery
The range is quoted as up to 50km (31 miles), although on closer inspection that's 30km of riding with a possible 20km extra coming from regenerative braking. This is the first e-bike I've come across that employs this technique, which is common in electric cars, although in my experience of driving you're not getting anywhere near close to two-thirds of your distance travelled back. As far as I can tell, there's no way to see how much battery you have clawed back in the app either, so I'm unable to speak to how achievable that 20km is. 
The regenerative braking can be activated either by pressing a button on the remote on the handlebars or pedalling backwards. You don't brake instantly, but slowly cruise to a stop. I found that the button on the remote was sticky and couldn't tell if my press had registered. Pedalling backwards was more effective and reliable, but I kept getting caught out by adjusting the position of the pedals a quarter turn backwards to leave my feet in a comfortable position when cruising, which resulted in a touch of braking and loss of momentum.
Perhaps regenerative braking is something that could be mastered if I had longer with the bike, but I suspect I would turn it off and work within the 30km limit, which seemed accurate to me. 
The battery takes three hours to charge and a full charge lasted me 29km, which is good going considering I was tackling hills and stopping frequently at traffic lights (getting going again takes significantly more power than cruising along). The battery is charged via a plug in the rear axle. Normally, I prefer a detachable battery, but since this is intended to be a bike you store inside and that sits along a wall next to an outlet, I don't hold the Hummingbird's built-in battery against it.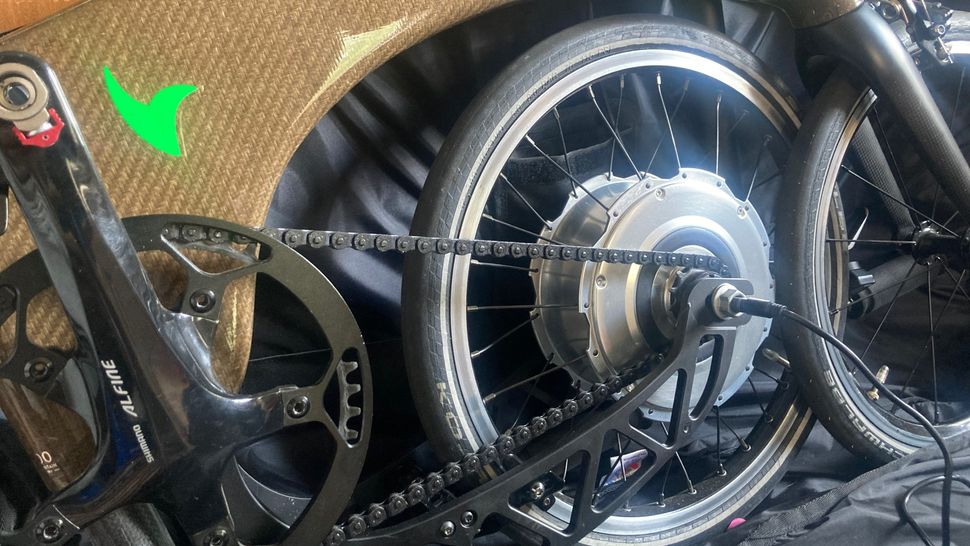 The Motor
The strangest part of riding a Hummingbird is the default way to wake the bike up and turn the motor on. You need to lift the back wheel and pedal so it "reaches 5km/h" or the equivalent spinning speed. Then you need to ride the bike to a speed of 8km/h, then pedal backwards three times. I live on a close with a slight incline so had an ideal runway to perform this routine and it worked reliably, although I must have looked a little odd. It's a rigmarole and one that seems a bit much when you're paying so much money.
If you use the included handlebar-mounted remote and paired Bitride app it is possible to use that combination to start the bike and motor, but on the one time I was able to try the three-button and six-light remote, I found it far from intuitive, and it was difficult to tell if it had worked.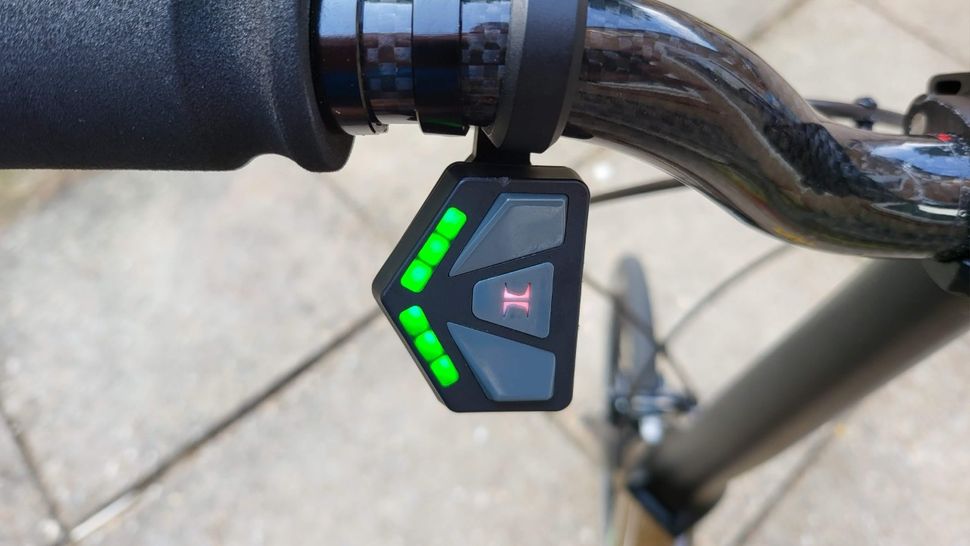 The app is better than the remote and includes the ability to customise the levels of assistance, regenerative braking and boost. The boost, triggered by one of the spongy-feeling buttons on the plasticky remote, is very welcome though. Without it I felt I had to physically work a bit on hills, which I take as a personal affront when riding an e-bike, but once I had the remote and app working I used the boost on the steepest hill near me and raced up it with minimal effort.
On the flat, the motor delivers a decent punch and applies assistance smoothly and naturally. You can set off in a queue of traffic and pull away swiftly from the vehicle behind, but the assistance is responsive enough that it won't power you into the car in front. Full marks. The motor makes a high-pitched whirring sound, but that's a minor complaint. 
The Ride
I personally found the bike didn't suit my size and strength. Once over the 25km/h limit of the motor, the single speed didn't offer enough resistance and I was left trying to accelerate ineffectually with too high a cadence. It won't be the same for everyone, because it depends on your size, fitness and riding style. However, as a 6ft regular cyclist and runner, I gave up trying to go faster than 25km/h, freewheeling until the bike slowed a bit and then starting to pedal again, whereas on a Brompton Electric I'd move up a gear and accelerate. That doesn't mean the Hummingbird will be slower in urban areas – my commute took a similar amount of time (traffic lights are the great leveller).
I also found the short handlebars made the steering twitchy, to the point where on certain parts of my commute I didn't signal, preferring the stability of two hands to ride over gigantic south London potholes. Speaking of the south London terrain, the Kevlar tyres withstood riding straight over broken glass.
Accessories
The Hummingbird comes without some essential accessories, which is disappointing. There are no integrated lights: Hummingbird instead offers lightweight, rechargeable Knog lights (opens in new tab) for £75. Full-length mudguards (opens in new tab) cost another £72. Like Brompton, there are also bespoke bags and racks that fit the frame, although I didn't try those. My review model did come in the carry bag (opens in new tab) (£174), which was a useful way to keep the bike protected and tidied away when I wasn't using it.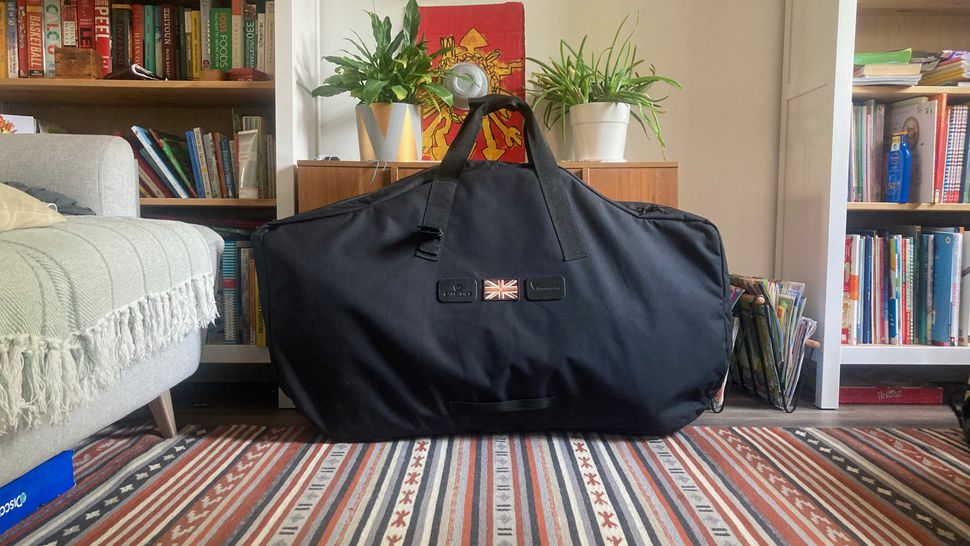 Is The Hummingbird Folding Electric Flax Bike Worth It?
The Hummingbird Flax should be lauded for how light it is and for its use of sustainable materials. While the twitchy steering and single-speed set-up didn't suit me, there's a person this bike will suit to the ground, and to find out if you are that person I'd recommend you find a shop that allows you to test ride one. That test should include carrying it around in its folded state, because if you struggle to carry 10kg or baulk at the idea of doing that, I'd point you in the direction of a folding e-bike you can wheel around instead – the Brompton Electric P Line with the extra roller rack, or a Gocycle.