We use affiliate links. If you buy something through the links on this page, we may earn a commission at no cost to you. Learn more.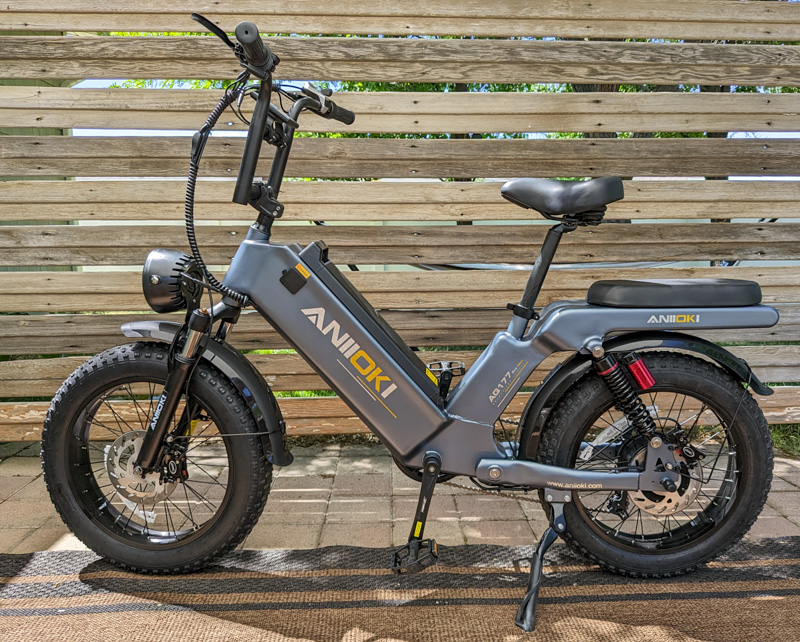 REVIEW – I've reviewed or purchased several electric bikes over the past few years, and I'm starting to fully comprehend how diverse the market is these days. There are bikes catered to commuters (some needing to carry or pack the bikes into transport or storage areas), delivery drivers, recreational enthusiasts, adventure seekers, and the truly insane. My collection of regularly used bikes has increased for different purposes, like a cargo bike for errands around the town with our child and folding fat tire bikes for fun (or to divide and conquer different errands after an event traveled to with our car). The Aniioko Aq177 Pro Max electric bike caught my eye as a type of bike I hadn't even considered in my own life yet (though I'd seen similar ones around): a moped-style bike. Add in a massive battery (and therefore a massive range) and decent top speed and I volunteered to check it out.
What is it?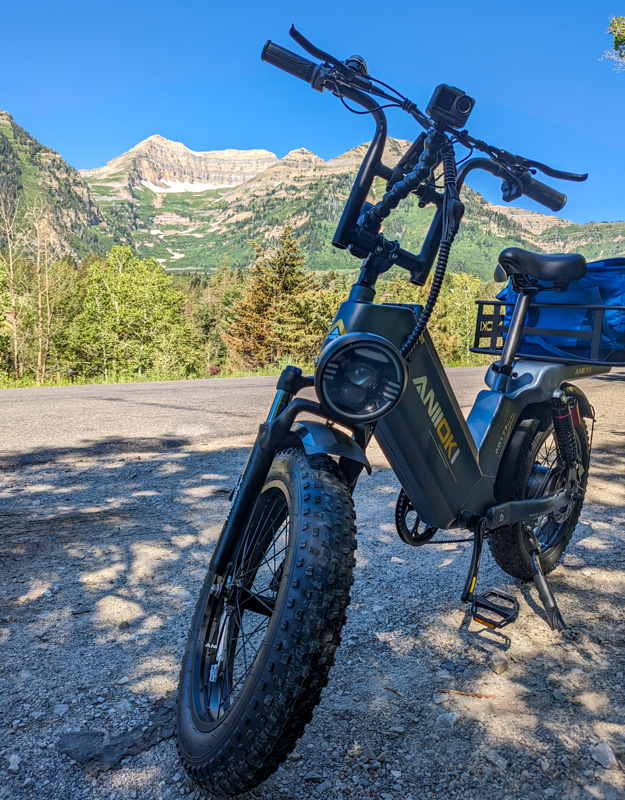 The Aniioko Aq177 Pro Max electric bike is a long range and high powered model (for the price point). It's among the longest range bikes on the market, and from my market research, you have to double your spend to get significantly more powerful bikes (which are often dangerous for the untrained rider). The bike almost feels like a hybrid between a moped and a bike, putting emphasis on the throttle-only cruising while still being functional as a bike at the same time.
What's in the box?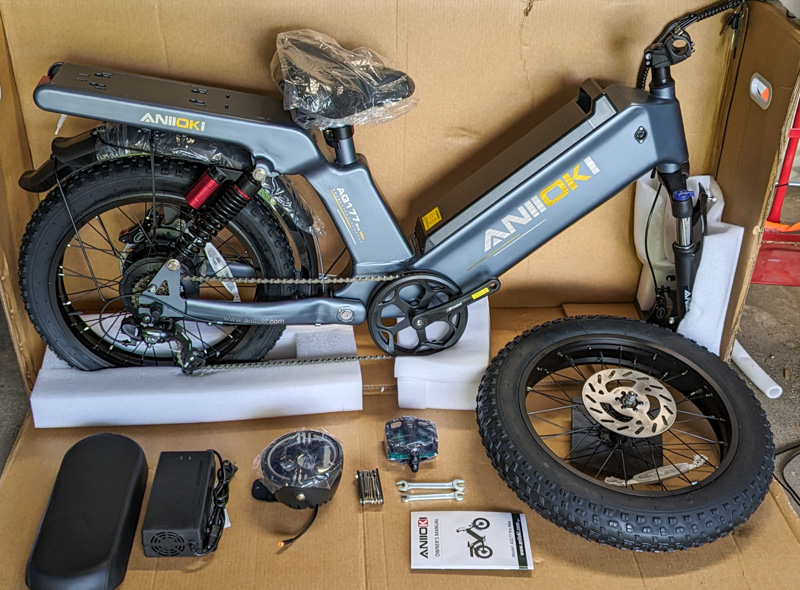 Aniioko Aq177 Pro Max electric bike
Rear cushion
Fenders (x2)
Battery
Battery charger
Keys (battery and NFC discs)
Set of pedals
Front light
Tool kit
User manual
Hardware specs
Battery: 60 Ah @ 48V, Lithium
Motor: 48V 750W Brushless motor (1200W peak)
Torque: 80 Nm
Charger: 54.6V 8A Smart Charger
Controller: 48V 25A
Charge time: ~8 hours
Range (throttle only): 100+ miles
Range (pedal assist): 200+ miles
Tires: 20″ x 4.0″ fat tires
Gear shifter: Shimano 7 speed
Max speed: 28 Mph
Throttle: Full-twist throttle
Lights: Motorcycle style front light / Rear turn signals / rear brake lights
Brakes: Hydraulic disks with 180mm rotors (extra thick)
Front suspension: Hydraulic suspension front fork
Horn: Electric
PAS levels: 5
Recommended rider height: 5'3″ – 6'5″
Bike Weight: 112 lbs (including 33 lbs removable battery)
Rear seat/rack load: 55 lbs
Dimensions: 68″ x 27″ x 44″
E-bike class: Class 3
IP level: IPX6
Design and features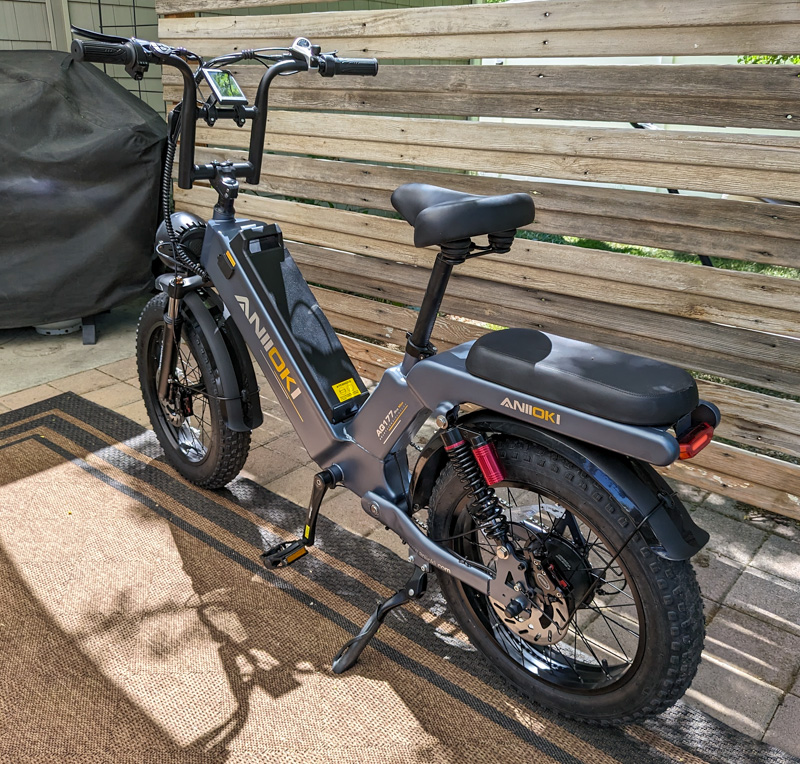 The Aniioko Aq177 Pro Max electric bike has a fairly unique design with its square-root sign shaped frame, blending bicycle and moped/motorcycle elements together. The entire construction is sturdy metal, with midrange bike components throughout (and of course that massive battery). The battery is removable, and if you put it on a bike rack you'll probably want to remove it and STILL make sure your rack can handle the weight of the bike (it was JUST under the cutoff for our e-bike hitch rack without the battery). I like the included rear seat, but it went into storage for now (since our child is way too small for this) and I purchased a back rack from Aniioko that you'll spot in some of my review photos which was great for carrying stuff around.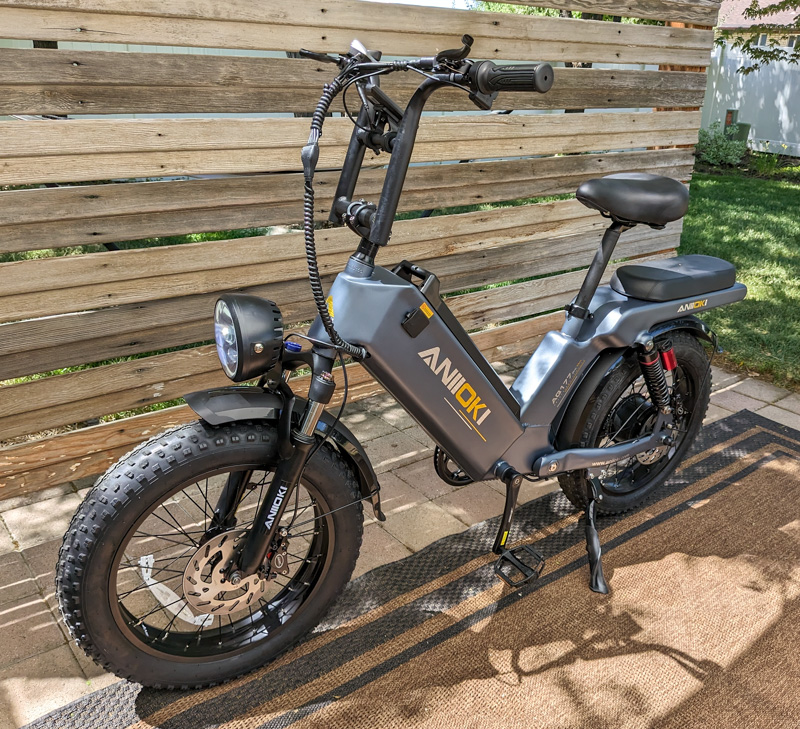 Above is another angle of the bike as a whole, and below is a gallery of individual parts with my thoughts (you can click on any of them for a larger version):
Overall, I think the Aniioko Aq177 Pro Max electric bike is a well built bike, though it's heavy enough to really cause some damage if you hit something or someone- be careful out there.
Setup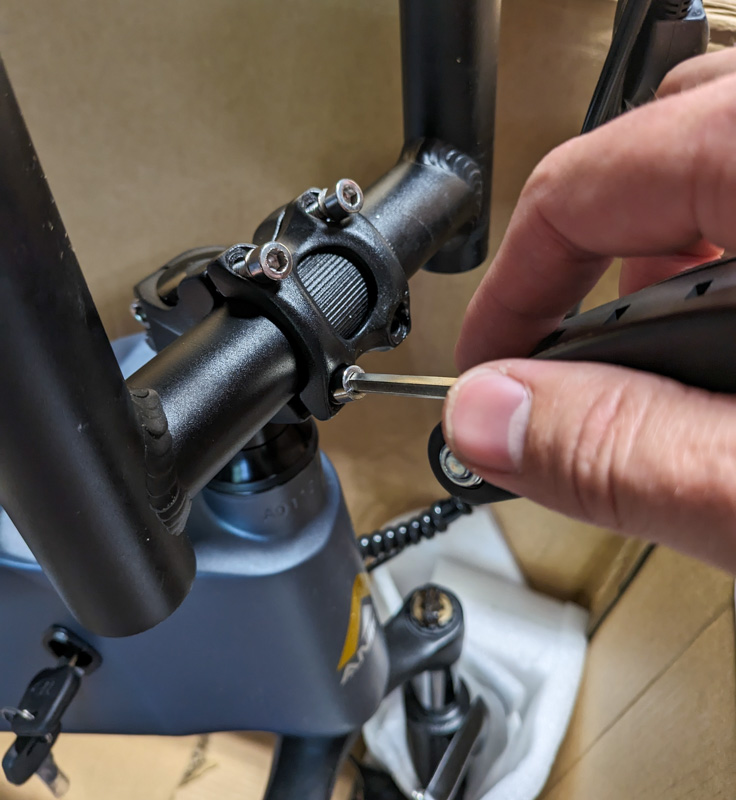 The setup was similar to how most e-bikes are shipped these days so I'll focus mostly on what was different for the Aniioko Aq177 Pro Max electric bike. First up, the handlebars have a slightly different design than most bikes, though the mounting hardware was the same: a four-bolt clamp system, just attached lower on the front than usual.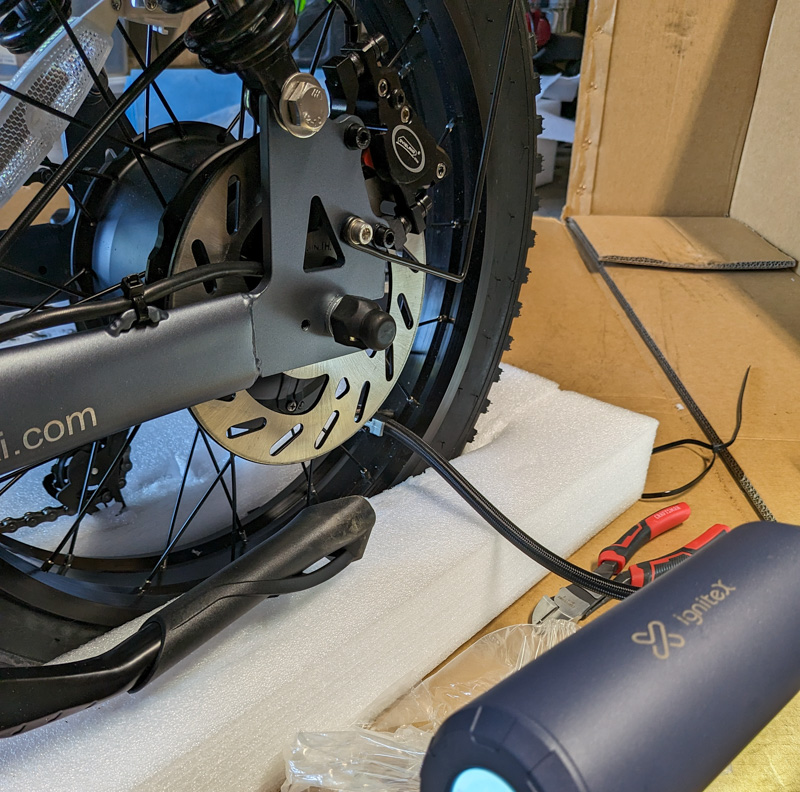 Next, during tire inflation, the back tire wasn't taking air, and it turns out the tube had completely blown out during shipping. The front tire was very over inflated so I'm guessing the back was also overinflated from the factory and then burst during shipment.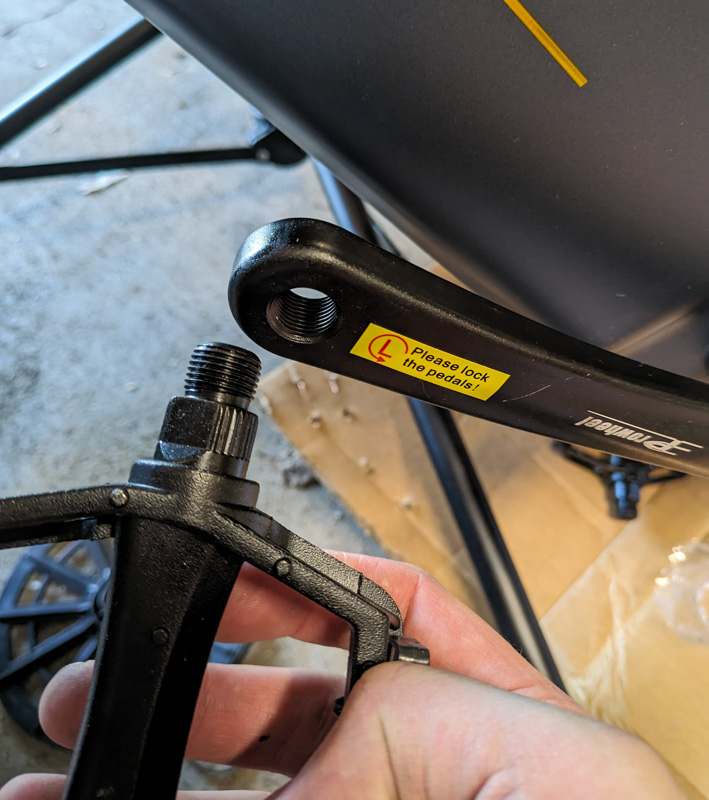 The pedals are standard bike pedals, and luckily they are clearly labeled and there are warning labels on the crank arms as well to make sure you screw each in the correct way. Follow the instructions and you'll be fine.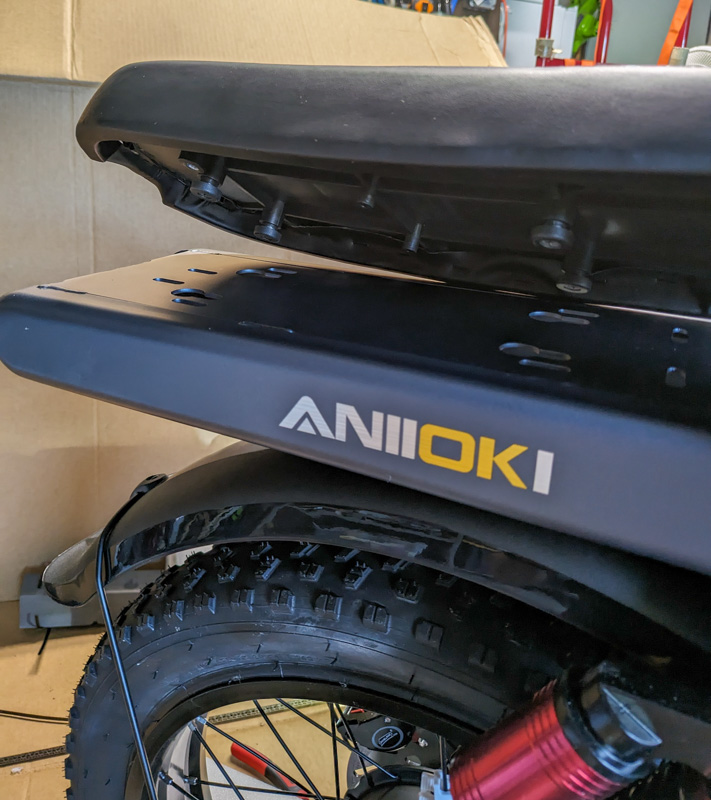 If you're using the back seat you simply push it on and slide it a bit to lock it in place (then a single screw keeps it there).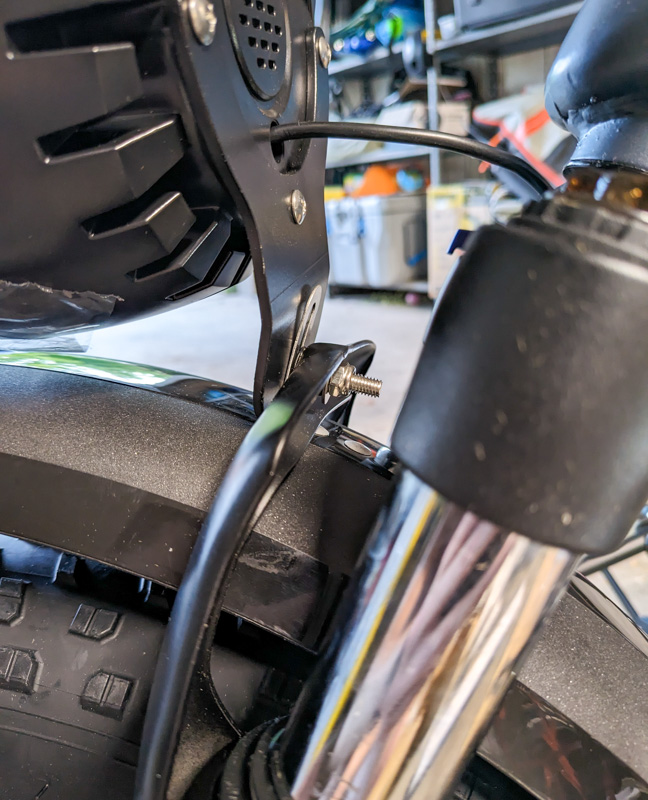 The front fender and headlight gave me the most trouble, it was very difficult to get their provided wrench (or my own wrenches) into this tight area to fully tighten things down, and then during riding the headlight came loose and slumped to the side. Another tighten-and-curse session fixed it up, for now. Notice the headlight angle isn't adjustable. Luckily it's at a good angle for me, but if you prefer it higher or lower, you'll have to bend the metal arm itself (which isn't too hard to do).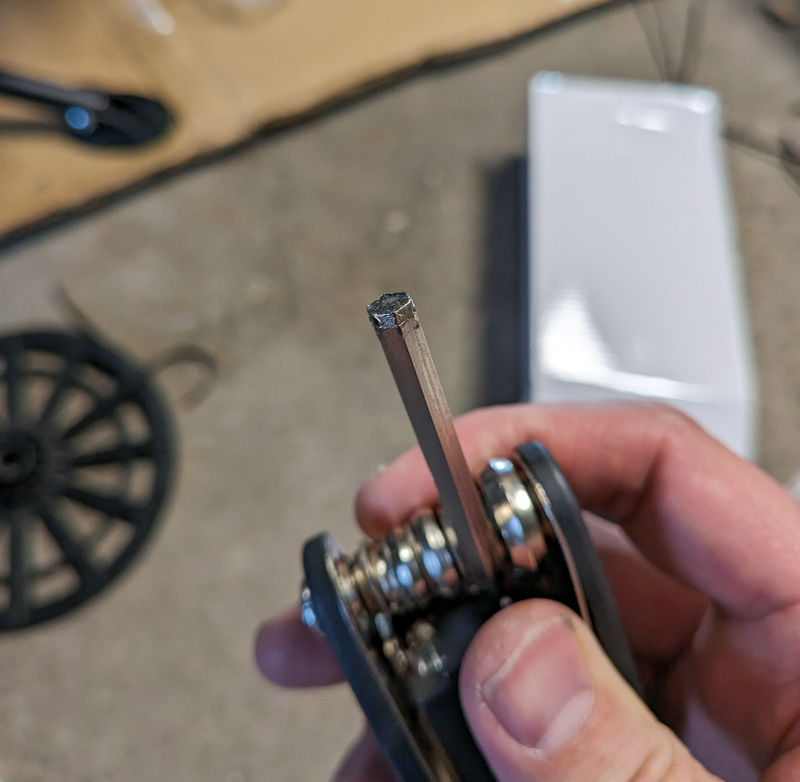 My final note on setup is that the included multi-tool for installation (and future repairs) strips very easily. I wish they'd use higher quality metal on stuff like this (but Aniioki is not alone in not providing good tools with their bikes, this is a frequent occurrence with other bikes I've reviewed and bought).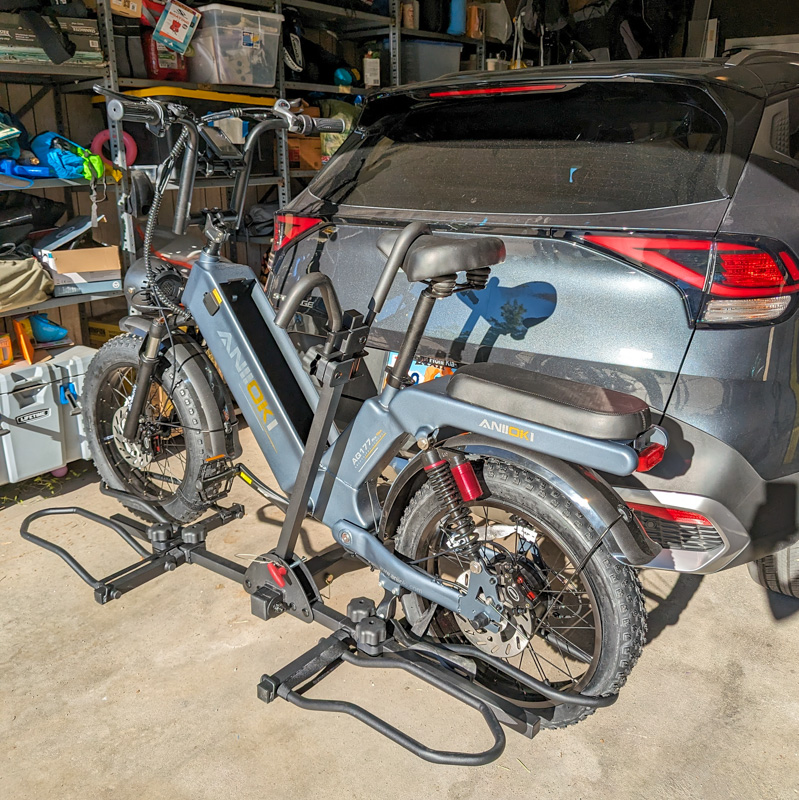 I took the bike over to a shop (since replacing tubes on these giant tires is not my favorite activity). Lifting the bike onto the rack, even with the battery removed, was a feat of strength for me (and required some ibuprofen the next day).
Performance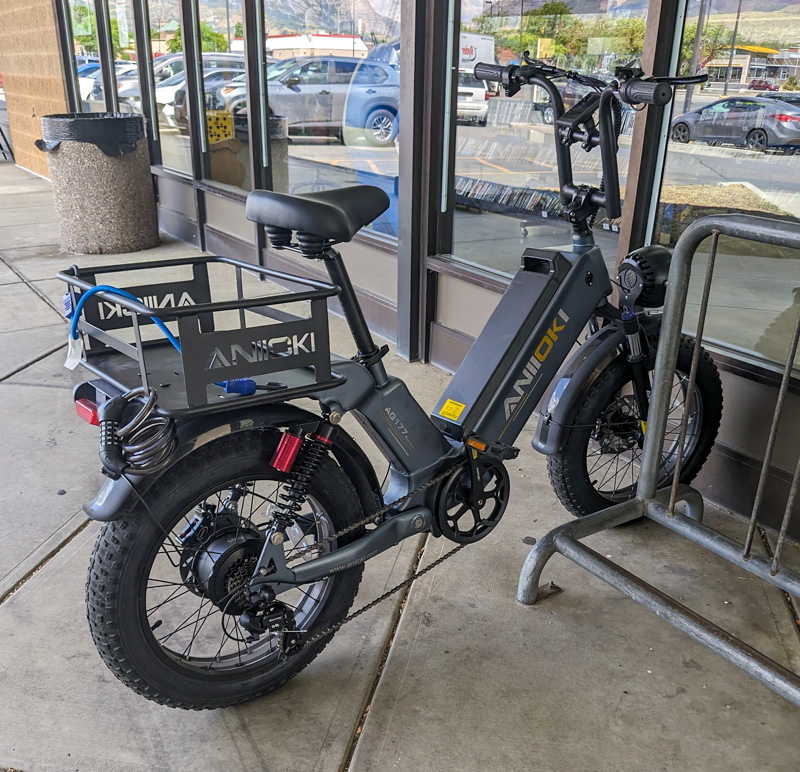 I started testing by using the Aniioko Aq177 Pro Max electric bike for errands around town. It has decent (but not crazy) acceleration, and the handling is better than I expected with the weight of the bike and battery. Once you get going, it feels more nimble than when trying to move it around while stopped. The suspension is very good in the rear, and adequate in the front – but even after adjusting the preload it bottoms out with a loud clang if I hit our driveway going at any speed more than a crawl (other bikes don't have this issue). I think this is probably the one part Aniioko could improve: put a beefier front suspension on this bike. For most riding though, it works well and rides smooth, and if you remember to shift your weight back before hitting bumps it does a lot better putting the shocks into the rear suspension. The clang of the front shock surprised me several times during testing and I worry about how long it'll last if it keeps slamming like that.
The bike gets up to ~30 mph at full speed settings, but not extremely quickly (maybe 15 seconds to slowly build up to that speed) with my 215 lb weight. Lighter riders might get a bit more acceleration.  After about 20 miles of in-town trips, the battery gauge hadn't moved at all, so I decided to do a long summer canyon ride up to Sundance Ski Resort (an easy 20 minutes from my house).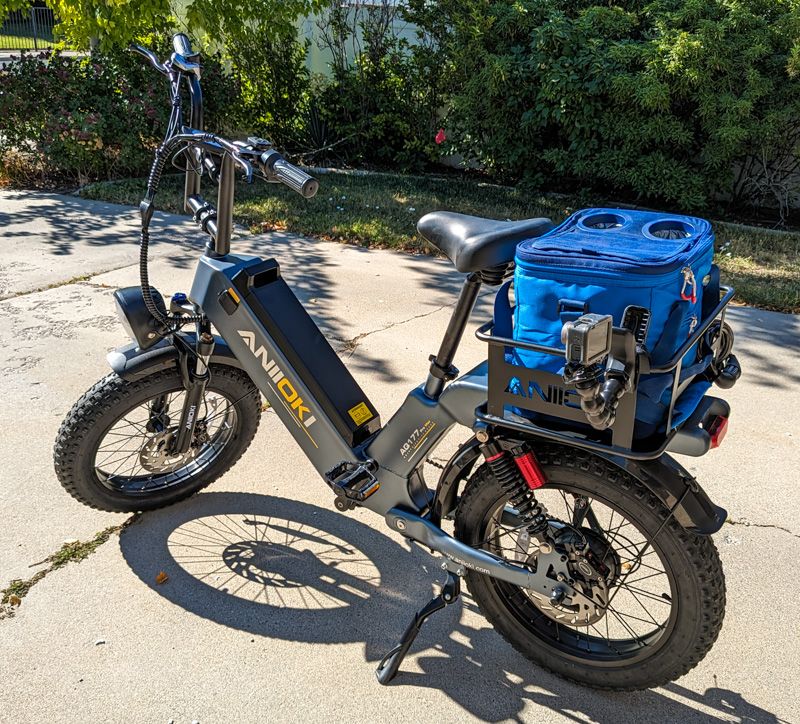 When I pulled into Sundance's parking lot, I'd traveled over 30 more miles up almost 2000 feet of climb (all on pavement), and the battery bar was still showing full bars. In my previous experiences with the same canyon ride, bikes rated for 30 miles often die in 10 miles or less up this grade of hill, so I was beyond impressed with the range (especially since I was just cruising full throttle most of the way).
Here's some of my ride testing and the long range canyon ride timelapse:
What I like
Incredible range and good top speed
Great rear suspension plus seat springs makes for a comfy ride
Still works as a bike, I can pedal if I want (and often do up steep hills even though the bike does fine without)
What I'd change
Bigger/stronger front suspension
Center mounted double kickstand would be a lot more stable
Charger hangs off the bike not fully on the ground when plugged in
Final thoughts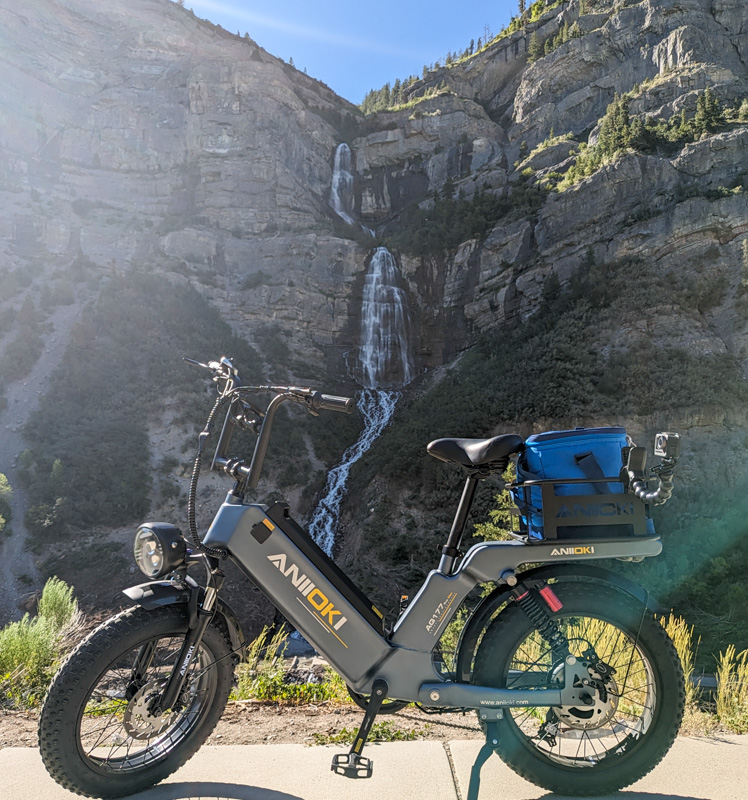 The Aniioko Aq177 Pro Max electric bike has been one of my favorite electric bikes to test and ride so far. It strongly reminds me of my college scooter days, when I rode Vespa-style scooters everywhere as my primary mode of transport (even during snowy winters). With the insanely long range and good power, this bike could easily be a great delivery driver vehicle, or just a fun way to get around! If I'm headed to pick up take out for dinner alone, this is my go-to bike for in-city trips, and I'll be doing more long canyon cruises in the future as well.
Price: $1499-1999 (depending on battery voltage and size)
Where to buy: Aniioko and Amazon
Source: The sample of this product was provided by Aniioko.