Written by BJ Hessler | Photos by Kevin Wing Photography. Posted in Bikes
As more folks get excited about off-roading and dual-sport riding, Kawasaki is rising to the challenge of meeting the needs of smaller-stature riders. With the KLX 230 S, they've taken a truly off-road capable, street-legal motorcycle and redesigned it to suit riders who prefer the comfort of both feet down at stops or who may have a hard time getting a leg over a taller dual-sport bike. The result is an affordable, approachable, capable, and downright fun motorcycle.
The updated 2023 KLX 230 S is an affordable, approachable, capable, and downright fun motorcycle.
Wheels and Suspension
Although Kawi lowered the seat height, this machine still rolls on 21-inch front and 18-inch rear wheels, the combo you want for off-road riding. IRC Trails GP tires come fitted from the factory; they worked perfectly well on our test ride through central California, which included mud, gravel, and rocky fire roads. They felt sticky and safe at highway speeds on tarmac as well. If you want a more street- or dirt-oriented rubber, the 21-18 rims make it easy to find alternative tires.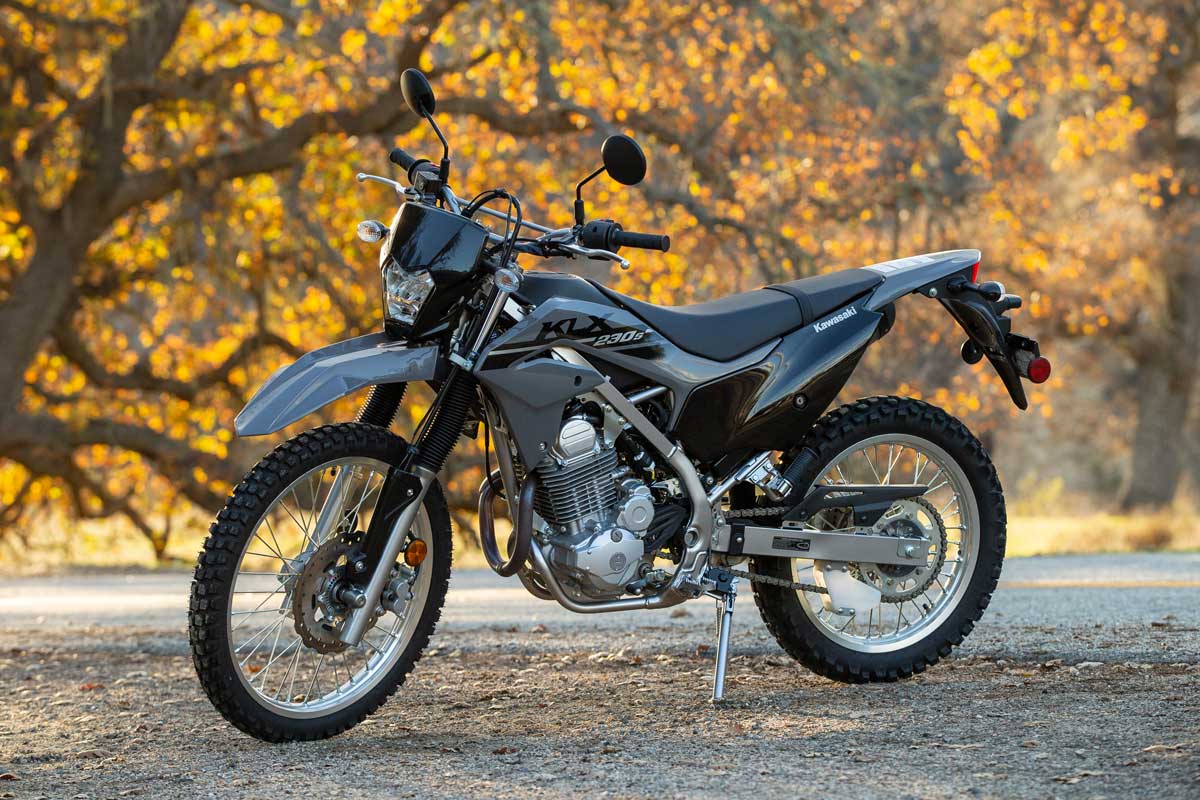 The narrow seat helps shorter riders reach the ground while maintaining sufficient ground clearance.
The front suspension has 37mm telescopic forks with 6.2 inches of travel, while the preload-adjustable rear uses a Uni-Trak linkage system offering 6.6 inches of travel. Progressive-wound springs kept the ride comfortable on the street but stiff enough for the unpaved sections of our test.
Of course, there are compromises made to offer a lower seat height. Kawasaki reduced suspension travel from 8.7 inches on the standard 230 model, giving the S a 2.1-inch lower seat height while still maintaining 8.3 inches of ground clearance.
The KLX 230 S rolls nicely on smooth pavement and handles slow, rocky off-road stuff well. However, the front end feels light and not as planted as one would hope at higher speeds on broken pavement. It might leave some riders feeling a bit insecure when pushing hard in fast, bumpy corners, but it's likely not a big concern considering the model's target market and intended use. Different tires would make a difference here as well.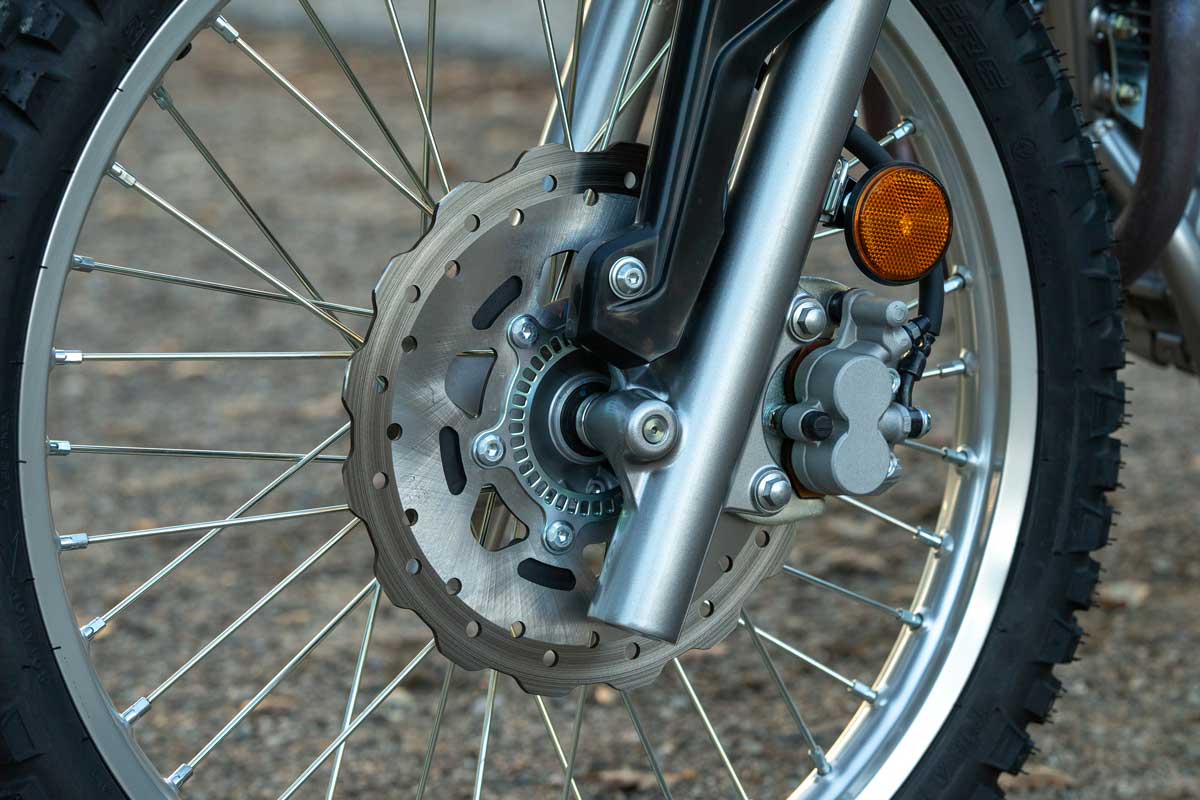 A 21-inch front rim means many tire options are available.
Engine and Power
This 233cc engine has been around since 2020, so any early-production bugs should be worked out by now. Both the low- and high-end of the power band are impressive, especially at this price point. Even better, electronic fuel injection is standard, so this bike is ready for cold mornings as well as mountain trails above the tree line, unlike the wheezy, carbureted one-lungers of old.
For beginner riders, low-end power is important as they learn to balance the bike and lift their feet at take-off. Although this is a small four-stroke SOHC single-cylinder engine, riders don't have to wind it up to feel the power delivery, which makes it learner-friendly. Usable power is there right off the line, leading to easier and smoother starts, whether that's from a red light on a paved road or a pause at trailside.
High-rpm throttle roll-offs felt a bit abrupt, but overall, power delivery was incredibly smooth and linear through all gears, something that gives newer riders confidence as they progress. Learners don't need the stress of an unexpected burst of power as they work the throttle, and the KLX's predicable output is a major plus here.
With roughly 17 HP, the KLX230S has plenty of power for climbing steep trails even at altitude. The six-speed gearbox makes for comfortable riding on highway stretches as well. Top speed was about 73 mph, and the bike didn't sound or feel stressed—but it was much easier to handle when closer to 50 mph. The gear ratios are well suited to dual-sport riding and secondary roads. Through our test ride, the engine did not get noticeably hot, even at high RPMs.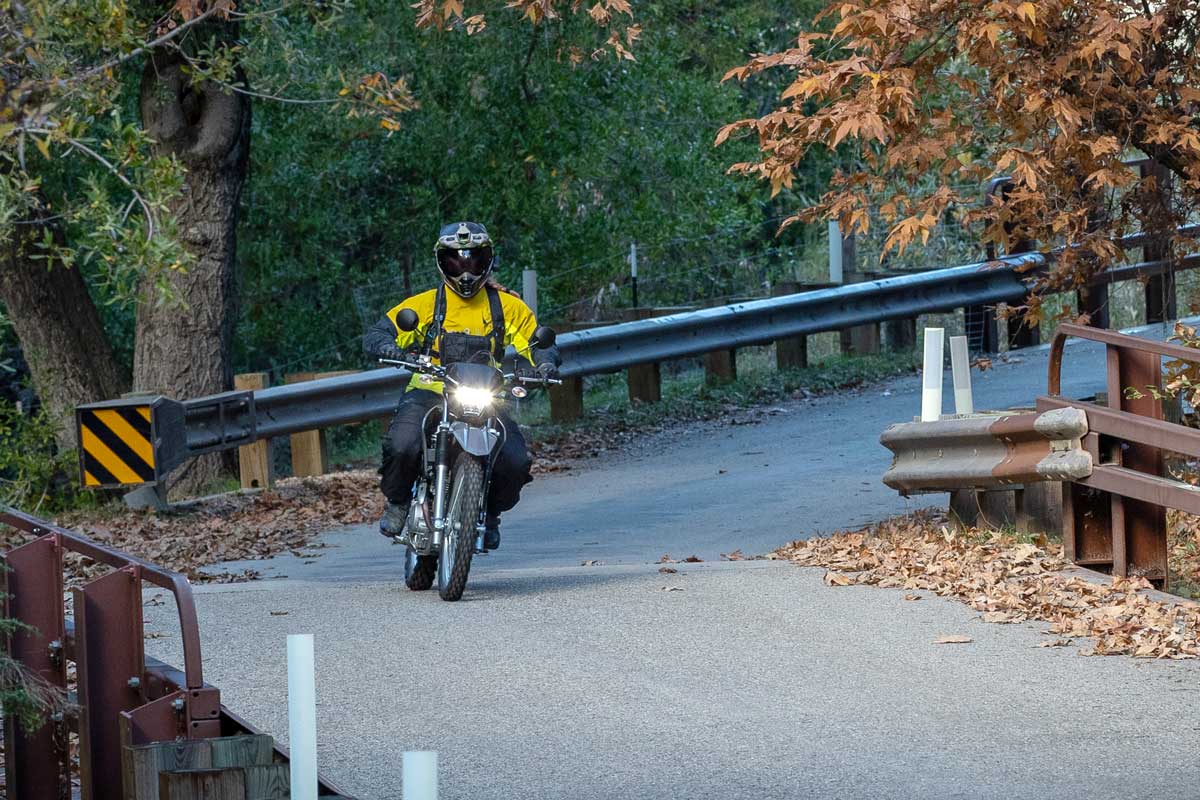 The KLX230 S has the feel of a very road-capable dirt bike but might be a little tiring for long road days.
Because the bike shifted so smoothly, ran quietly, and came with no tach, it was difficult to figure out which gear I was in sometimes. Thankfully, the KLX was forgiving even if I ran a cog too high or too low.
As far as the soundtrack, this is a quiet bike, and I think that's a good thing. Keeping noise pollution to a minimum preserves riders' rights by not angering neighbors on mixed-use trails―a diplomatic step in the right direction.
The 2-gallon fuel tank delivers about 75 miles of range, depending on terrain and speed. The shape of the tank and seat was great for both seated and standing riding positions. The flat seat is ideal for off-road as the rider can scoot way up on the tank, keeping that front end planted through sandy corners. You'd probably want a more comfy seat for long days behind bars, but the narrow saddle does make it easy to reach the ground with both feet. Finally, it's worth mentioning that an extra $300 will get you an ABS version, which has one of the best deactivation buttons we've seen. The left control unit houses a very clear and easy-to-access ABS-off switch that disables the rear wheel ABS only.
An intuitive ABS disengage switch is located on the left-hand control.
Body, Styling, Ergonomics
 Forget the classic neon green paint job; for 2023 Kawasaki sells this bike with gray plastics. The overall styling comes from their KX lineup.
I'm 5 foot 6 inches and about 180 lb. When seated, the distance from pegs to seat was sufficient for my 30-inch inseam, even with knee braces. However, by the day's end, I was ready to stretch my legs. For short inseam/long torso riders like me, the handlebars felt a little low for all-day riding if I was in the standing position. That said, a shorter rider would find this bike a great ergonomic setup as-is.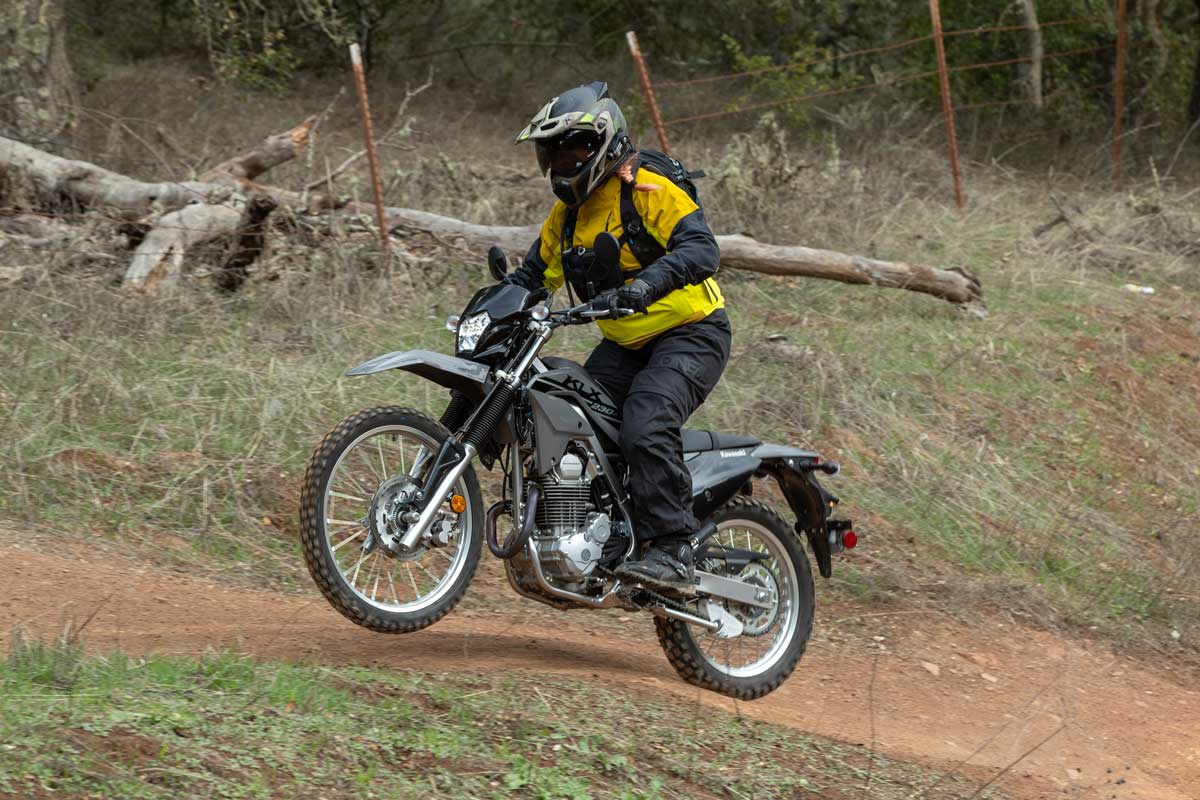 At 5'6″ with a 30-inch inseam, BJ recommends this bike for riders her size or smaller.
The footpeg placement was good, but I had one poorly calculated moment when the peg (and my right foot) didn't clear a rock as expected, as the pegs were a bit closer to the ground than I anticipated. At my weight, it did feel at times that I was pushing the limits of the suspension, putting the pegs in a bit of danger. When rising to a standing position, I caught the top of my boot (Alpinestar Toucans) on the massive passenger pegs, whereas on hill climbs, they sort of acted like Steg-pegz. If you intend to use this bike primarily off-road, I could see removing the passenger pegs altogether. This bike would be underpowered to ride two-up for very long. The passenger would also be perched uncomfortably on a narrow, hard seat.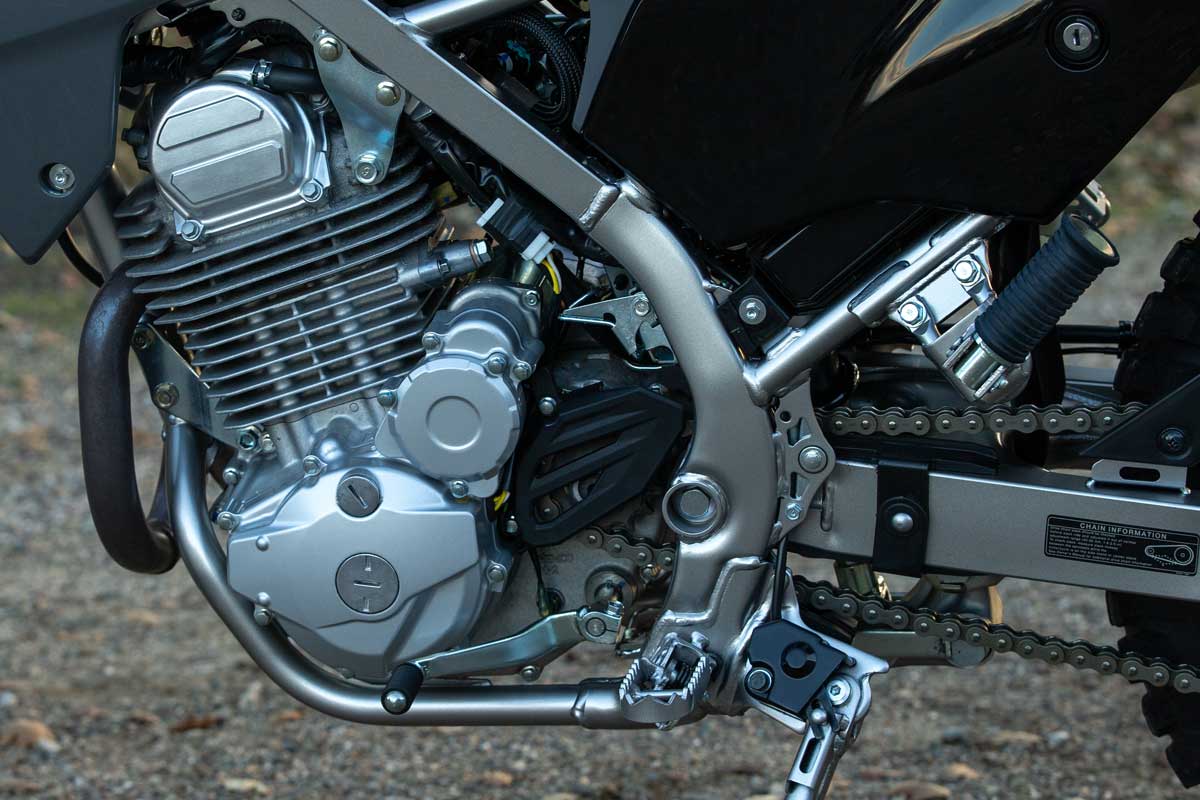 The passenger footpegs are easily removable for solo riding.
The new LED headlight is more compact, looks more proportional, and is brighter than previous generations. The new turn signals pop off somewhat easily, as I discovered in a tip-over. Good news, they pop back together easily as well.
The KLX 230 S is comparable to the Yamaha XT 250 or Kawasaki's old Super Sherpa. Compared to the Yamaha XT 250 of the same year, a consumer would pay about $300 less if they opted for the non-ABS Kawasaki.
Specifications:
Seat Height: 32.7 inches
Weight: 298 lb. (w/ABS)
Ground Clearance: 8.3 inches
Engine: 4-stroke single, SOHC, air-cooled
Displacement: 233cc
Transmission: 6-speed, return shift with wet multi-disc manual clutch
Warranty: 1 year
MSRP: $4,999 or $5,299 with ABS
PROS:
Full-size spoked wheels mean many off-road tire options
Fuel injection
Light weight
Smooth transmission and predictable power band throughout each gear
Low seat height but still good ground clearance
Excellent value for the R&D put into this bike
Switchable ABS option
CONS:
Front end felt too light in high-speed bumpy corners no tach, no gear indicator
Not adjustable suspension (but keeps price down)
Short rider should also be a lighter weight rider as suspension weight limit is pretty low