Rennie Scaysbrook | May 7, 2023
The Honda CBR1000 is no longer the sleepy old man of the superbike class. Now in CBR1000RR-R Fireblade SP (to give it its complete name) form, Honda has taken the 'Blade and made it more a racer-with-lights than anything coming out of Japan right now, and damn near more so than anything from Europe, too.
Photography by Ryan Nitzen
That's not necessarily a good thing for many who buy this bike.
At a time, Honda would create a sports motorcycle for the street and turn it into a racing bike. But, in recent years, Honda's hand has been forced into making this racer-with-lights by the sheer onslaught of European performance, especially in the homologation specials like the BMW M 1000 RR, Ducati Panigale V4 R, and the Aprilia RSV4 1100 Factory.
I don't think Honda themselves wanted to go down that path, but the results in WorldSBK speak volumes. Honda has not won a WorldSBK race since Nicky Hayden took the gold for Ten Kate Honda in a wet race in Malaysia in 2016, a year before his tragic passing.
Isn't that nuts? We're going on eight years since the largest motorcycle company on the planet won a race in the series that actually sells its motorcycles. So, you can't blame them for making street riding a definite second to racetrack performance.
But, oh man, is this bike pretty or what? I'd have one just to put in my living room to stare at those iconic 1990s white, purple, and blue colors. Just beautiful. The attention to detail is typical Honda—little things like a perfectly uniform gap between the tank and the bodywork that runs underneath it, the neat inbound winglets, and the uncluttered appearance of the cockpit all scream Honda quality. Each time you look at the bike, you find something new to like and gaze at. This bike is pure garage porn.
Ok, so what's it like?
I've just spent four months riding this $28,900 CBR1000RR-R Fireblade SP in every possible condition (café runs, press engagements, a day at Chuckwalla, and, yes, even rain, thanks to the gods dumping all over SoCal this winter). And for the first time I can remember, I think the performance aspect is now too far skewed to the track.
I cast my mind back to when I had a Suzuki GSX-R1000R a few years ago, which was like a couch compared to this CBR. A quick look at my report from the 2021 Honda CBR1000RR-R SP Fireblade press launch from Thunder Hill.
confirmed what I initially thought in that the ergonomics are now so tight they only make sense if you're either under 5'9″ or you're tucked in trying to break the sound barrier, or both. I'm 6'1″ with average-length legs (if there are such a thing) and the distance from the footpegs to the seat is way too short for me. Compared to the old (2017-2020) CBR, the seat height is down 0.4 inches to 32.6 inches, the handlebar height is down 0.7 inches to 33.1 inches, and the pegs are 0.8 inches higher and 1.7 inches further back. In that sense, the CBR feels like an overgrown 600, although the wide-set handlebars offer a bit of respite from the aching joints as they allow your shoulders to be more relaxed than tighter angled bars.
Where these ergonomics work is, you guessed it, at the racetrack. I took the CBR for a day at Chuckwalla to get the full experience, and in the confines of painted curb apexes, the sharpness of the CBR shone through. Being lower to the ground means you don't have to shift the bike over a larger distance than necessary, so its agility and speed in turning are almost unmatched.
However, I guess I'm just too big for the chassis because after five laps of the Chuckwalla circuit, my knees were aching, and I was back into the pits.
This had me worried.
Was I officially over-the-hill when it came to superbikes? The answer is no because I raced an R1 at the same track three weeks later and came away with no aching knees and a couple of wins. It's partially me, yes, but it's also partially the bike.
Back to the street.
This is now the most tech-laden CBR there has ever been, so finding a setting in the Ohlins Smart EC 2.0 electronic suspension for the 43mm Ӧhlins NPX fork and TTX36 was a cinch. On the racetrack, give me manual suspension any day, but take me to the street, and I'll almost always prefer (so long as the suspension is top-notch like the Ӧhlins) the electronically adjustable versions.
What's on the CBR is what's on many other top-end superbikes like the Ducati and Aprilia, so there's not much to write home about there, as we've tested them so many times before. You expect the Ӧhlins system to work better than most, and it does, and once you get your head around the rather confusing five-inch TFT dash on the CBR, you'll find a setting that suits quite quickly.
For me, that was the Sport setting of A2 (you've got A1 for full Track, A2/Sport, A3/Rain and manual settings of M1, M2 and M3). A2 offered the right amount of support and stiffness under brakes without being too rough when running over potholes and hard-edged bumps. And, yes, on those rainy days, I swapped it over to A3; however, the chassis became a bit of a wet noodle, with the forks diving to the bottom of the stroke and the shock not holding the back of the bike up in the fashion I'd hoped. This is a stiff, racetrack-like motorcycle, so give me the stiffer settings, thanks.
Make it go!
Switching over to the motor, there's one area that's such a pain in the butt I just couldn't get over it. The flat spot between 6-8000 rpm is such a blackspot on a motor as fantastic as this SP's, and it's not Honda's fault.
The emissions police have ripped into this CBR, not just for exhaust gasses but also for noise levels. It's like the CBR has two different personalities. The below 6000 rpm is Mr. Rogers, a benevolent, happy riding partner that's got all the time in the world to hear stories and share anecdotes. Then there's the above 8000 rpm personality. This is an 18-year-old that's just left a Fear Factory concert and is hell-bent on world destruction. And there's 2000 rpm of nothing in between.
The issue with that is regardless of which power mode of one to five you're in (one being the most aggressive, five being the least), you can't get past that drastic lack of drive and the dumping of power onto the rear tire once 8000 rpm is met. At regular street riding speeds, this is less of a concern, but if I owned one of these CBRs, the very first thing I'd do is take it to a proper tuner and get them to iron this trait out with a new map and an exhaust. It must be done, as it ruins what is otherwise a blisteringly good engine. Again, it's not Honda's fault, so I'm not mad at them.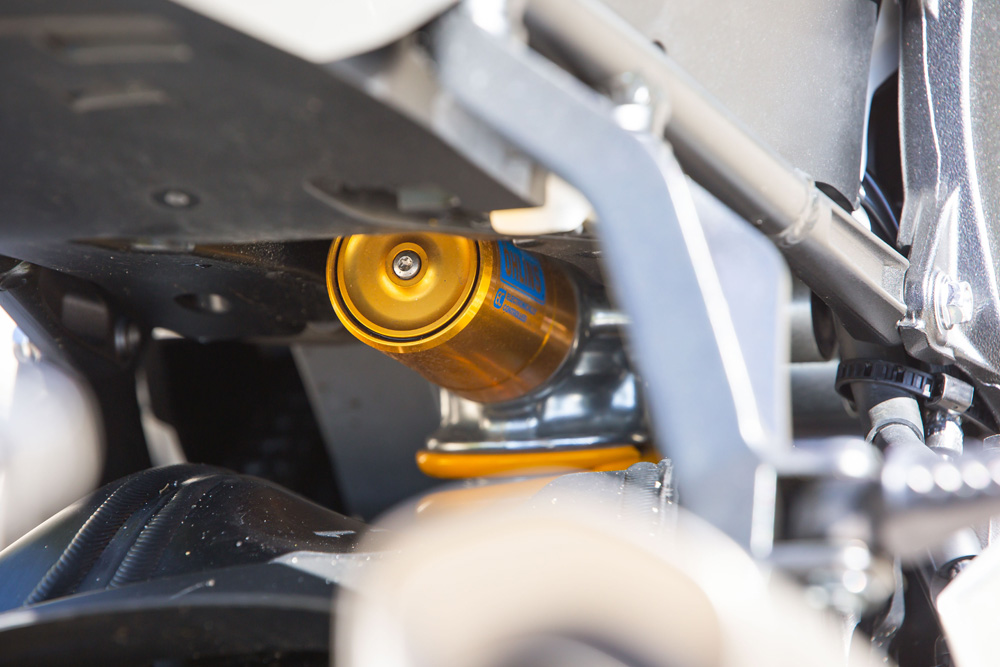 On the racetrack, you've got to keep the revs above the 8000-rpm range to achieve maximum performance, which, given the short-stroke nature of the motor, is not that hard. This engine loves seeing the redline and lives above 12,000 rpm levels. You've got an exceptionally nice up-and-down quickshifter at your disposal, par for the course, really, with a bike as expensive as this, and it makes getting the gearchanges done and out of the way before corner entry a pleasure as the auto-blipper takes care of everything.
There are no heated grips or cruise control on the CBR, which is a shame for road riders but two fewer things the racers will have to take off when the mods come. Normally I'd bitch on about that, but I go back to the point I made at the beginning that this is the most racer-with-lights bike coming out of Europe, and Honda's WorldSBK riders Iker Lecuona and Xavi Vierge ain't worried about cruise control.
Would I buy one?
I give the CBR back to American Honda feeling a little perplexed. This is, without doubt, the sharpest Fireblade yet made (they were called "Fireblade" from day one in 1992 everywhere except North America until 2021), but it's absolutely lost some of its street manners in the process.
Some riders will think this is a good thing—if you want a street sports bike, Honda still makes and sells the old 2017-2020 edition badged as a 2023 CBR1000RR for almost half the price—so the Big H hasn't totally left traffic light warriors in a lurch. I think the SP is by far the prettiest of all the current 1000s you can buy, save for perhaps the BMW M 1000 RR and that alone is worth the purchase consideration.
If racing is your jam, the CBR is one of the finest bikes out there. It's short, tight and nimble, and with a motor redline riders will absolutely love. However, as a sports motorcycle for the street, the SP is just too sharp for my liking. Man, I feel old just writing that. CN
2023 Honda CBR1000RR-R Fireblade SP Specifications
| | |
| --- | --- |
| MSRP | $28,900 |
| Engine: | Inline-4-cylinder 4-stroke |
| Cooling: | Liquid |
| Fueling: | EFI |
| Displacement: | 999cc |
| Bore x stroke: | 81 x 48.5mm |
| Power (claimed): | 186 hp at 12,000 rpm |
| Torque (claimed): | 83 lb-ft at 11,000 pm |
| Transmission: | 6-speed |
| Clutch: | Wet multi-disc |
| Chassis: | Twin-spar aluminum |
| Front suspension: | Öhlins NPX 43mm telescopic fork w/Electronic Control (S-EC) |
| Rear suspension: | Pro-Link system; single Öhlins shock w/Electronic Control (S-EC) |
| Front-wheel travel: | 4.9 in. |
| Rear-wheel travel: | 5.6 in. |
| Front brake: | Dual 330mm discs, Brembo Stylema 4-piston radial-mount hydraulic calipers; ABS |
| Rear brake: | Single 220mm disc, Brembo hydraulic calipers; ABS |
| Front tire: | 120/70 ZR17 in. |
| Rear tire: | 200/55 ZR17 in. |
| Seat height: | 32.6 in. |
| Wheelbase: | 57.3 in. |
| Rake: | 24° |
| Trail: | 4.0 in. |
| Fuel capacity: | 4.3 gal. |
| Weight (curb, claimed): | 443 lbs. |

Click here for the latest Cycle News Sportbike motorcycle reviews and news.
Click here for more Honda motorcycle reviews and news.